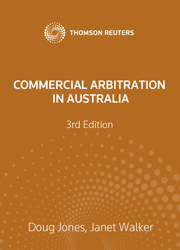 Commercial Arbitration in Australia Third Edition - Book
Book

Forthcoming Release, 20/02/2022

Code: 9780455502274

Lawbook Co., AUSTRALIA

Commercial Arbitration in Australia Third Edition - Book
Description
This work provides an annotated guide to domestic commercial arbitration legislation in Australia under the uniform commercial arbitration Acts. It is a pioneering work that first published in 2010 and is now in its Third Edition.
Since the Second Edition, all States and Territories have enacted Commercial Arbitration Acts ("CAAs"). The Third Edition considers the operation of the CAAs and Model Law in Australia and beyond.
It provides analytical commentary on the growing body of case law as the CAAs have now come to be applied. It also provides commentary on comparable provisions in other Model Law jurisdictions, explaining where the CAAs sit amidst the diversity of arbitration regimes worldwide.
The work also discusses the background to the commercial arbitration processes in Australia, and alternative forms of dispute resolution.
New developments include:
Case law analysis from the 10 years since the CAAs' inception;
Consideration of other Model Law jurisdictions, including summaries of the key cases from England and Wales, Hong Kong, Singapore, Canada, Germany and Spain;
Changes to institutional rules, including the 2016 ACICA Arbitration Rules;
Improvements to the efficiency of arbitration, including the rise of emergency arbitration;
The impact of the High Court's 2019 decision in Rinehart v Hancock Prospecting Pty Ltd as well as other developments arising from the Rinehart litigation;
Developments in 'arb-med', including the Supreme Court of NSW's decision in Ku-Ring-Gai Council v Ichor Constructions Pty Ltd;
Issues such as the scope of the CAAs, arbitrability and the construction of arbitration agreements;
Standard for lack of impartiality or independence and the Federal Court's decision in Hui v Esposito Holdings Pty Ltd; and
Role of the courts, including whether courts may grant anti-arbitration injunctions.
This title continues to be the definitive work in its field and is a 'must have' for anyone involved in commercial dispute resolution in Australia whether as a party to the arbitration, counsel, neutral or student.
* Pre-order: This item will be available on: 20 Feb 2022