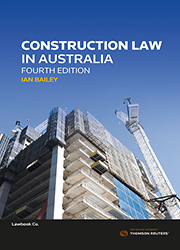 Construction Law in Australia 4e
Book

$64.00* $160.00 RRP Save: $96.00 (60%)

Date: 21/12/2018

Code: 9780455500515

Thomson Reuters, AUSTRALIA

Construction Law in Australia 4e

Sale Price:

$64.00

Saving: $96.00
Description
Construction Law in Australia is an authoritative and accessible text on the law relating to building and construction in Australia and now appears in its fourth edition.
Ian Bailey SC, working with a team of experienced practitioners, provides succinct, yet accurate, legal statements which explain the legal and practical context in which the industry operates.
Key topics include:
The Australian legal system
Understanding the law
Regulation of construction
Participants in the industry
Contract law
Tort law
Property law
Procurement methodologies
Key issues in construction contracts
Standard forms
Professional liability
NEW - Insuring risk in construction projects
Dispute avoidance, management and resolution
Conduct of construction disputes
In addition, the book outlines a wealth of resources to help readers understand the latest developments in each area.
This highly respected title provides a comprehensive overview of the law and is an invaluable resource for students, legal practitioners and construction professionals including engineers, architects and builders.