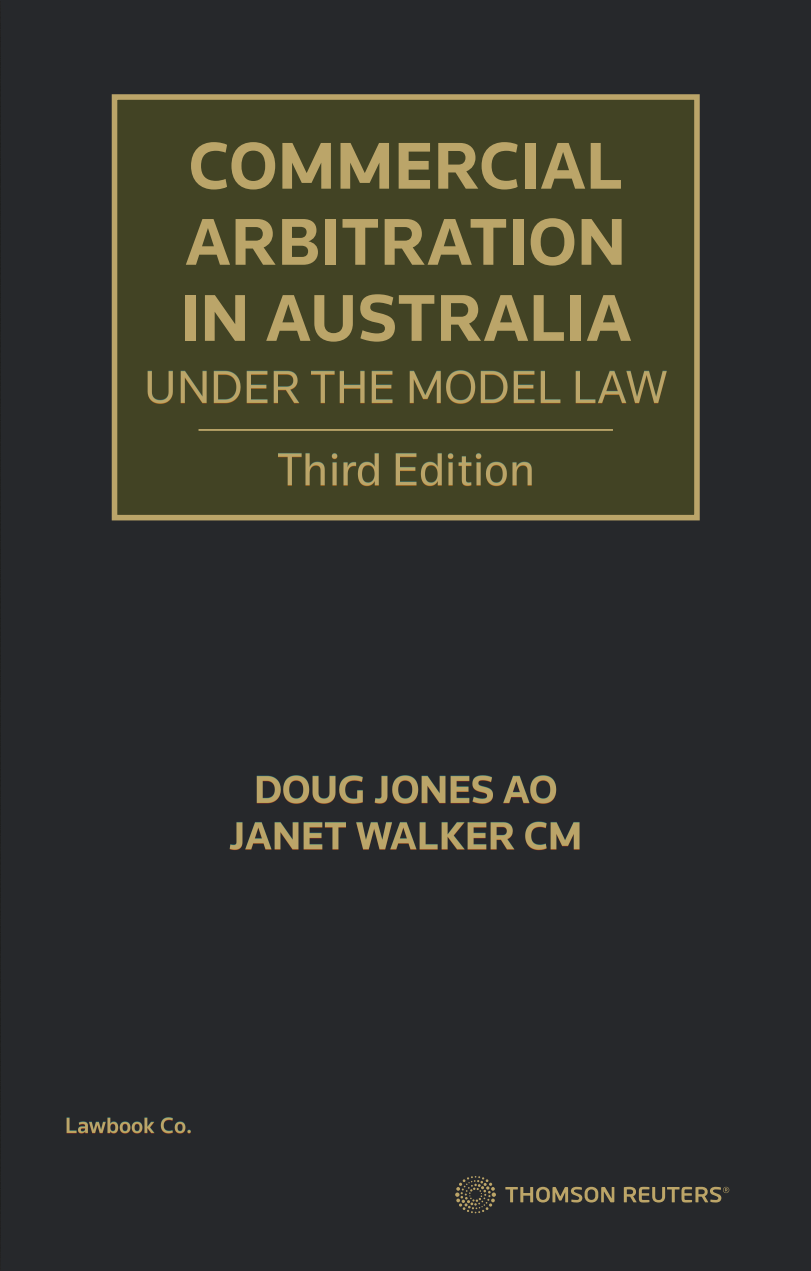 Commercial Arbitration in Australia Under the Model Law Third Edition - Book
Book

New Release, 07/06/2022

Code: 9780455502274

Lawbook Co., AUSTRALIA

Commercial Arbitration in Australia Under the Model Law Third Edition - Book
Description
"… a superb resource for students, practitioners, academics and judges" - The Hon Neil Kaplan, CBE, QC, SBS, former Judge of the Hong Kong Supreme Court and Chair of HKIAC
Commercial Arbitration in Australia Under the Model Law provides an annotated guide to domestic commercial arbitration legislation in Australia under the uniform commercial arbitration Acts.
This pioneering work first published in 2010 and is now in its Third Edition. Since the Second Edition, all States and Territories have enacted Commercial Arbitration Acts ("CAAs") based on the Model Law on International Commercial Arbitration. It provides commentary on the growing body of case law applying the Model Law in Australia, and internationally.
New developments include:
Case law analysis from the 12 years since the CAAs' inception;
Consideration of other Model Law jurisdictions, including key cases from Hong Kong, Singapore, Canada, Germany and Spain and comparisons with the case law in England and Wales;
Highlights innovations in institutional rules, including the 2021 ACICA Rules and the 2020 Resolution Institute Rules;
Improvements to the efficiency of arbitration, including the establishment of the role of emergency arbitrator;
The impact of the High Court's 2019 decision in Rinehart v Hancock Prospecting Pty Ltd as well as other developments arising from the Rinehart litigation;
Developments in 'arb-med', including the Supreme Court of NSW's decision in Ku-Ring-Gai Council v Ichor Constructions Pty Ltd;
Issues such as the scope of the CAAs, arbitrability and the construction of arbitration agreements;
Evolving standards for impartiality or independence and the Federal Court's decision in Hui v Esposito Holdings Pty Ltd; and
Role of the courts, including whether courts may grant anti-arbitration injunctions.
This title continues to be the definitive work in its field and is a 'must have' for anyone involved in commercial dispute resolution in Australia, whether as a party to the arbitration, counsel, neutral or student.
MORE PRAISE FOR THE THIRD EDITION:
"…comprehensive legal scholarship … invaluable experiential insights… a must-read, not only for Australian practitioners, but for arbitrators and arbitral counsel in Model Law countries around the world." - The Right Hon Beverley McLachlin, PC CC, Chief Justice of Canada (2000-2017)
"The indispensable reference point for all practitioners under the Uniform Australian Arbitration Acts..." - Justin Gleeson, SC, Solicitor General of Australia (2012-2016)
"…it will be cited with approval in common law courts far beyond the antipodean shores whose arbitral jurisprudence it so beautifully captures and crystallises." - Louis Flannery QC, co-author of Merkin and Flannery on the (English) Arbitration Act 1996
"…the 'go-to' commercial arbitration text in Australia." - Georgia Quick, President, Australian Centre for International Commercial Arbitration
FULL TEXT OF ENDORSEMENTS
The Hon Neil Kaplan, CBE, QC, SBS, Judge of the Hong Kong Supreme Court (1990-1994), Chair of HKIAC (1991-2004)
"The Third Edition of this important work comes at an opportune moment in the development of international arbitration in Australia. Not only do the abundant natural resources of Australia inevitably lead to disputes (and large ones at that) but Australian arbitrators and counsel are playing an ever-increasing role in international arbitration generally. As this work also shows there is a growing body of Australian case law on matters arbitration and these cases are cited with regularity and widely.
The pandemic led to an increased use of virtual hearings and thus the tyranny of distance has given way to the inconvenience of differing time scales. This has been a boon to practitioners in Australia. However as one would expect from these distinguished authors their academic reach extends well beyond Australia and significant decisions from other jurisdictions are included. I am confident it will be a superb resource for students, practitioners, academics and judges for years to come."
The Right Hon Beverley McLachlin, PC CC, Chief Justice of Canada (2000-2017)
"Commercial Arbitration in Australia under the Model Law" surveys the passage of commercial arbitration from its origins in the common law to its present status as the dominant global mechanism of commercial dispute resolution. Combining comprehensive legal scholarship with invaluable experiential insights into the world of arbitration, it is a must-read, not only for Australian practitioners, but for arbitrators and arbitral counsel in Model Law countries around the world."
Justin Gleeson, SC, Solicitor General of Australia (2012-2016)
"This is the indispensable reference point for all practitioners under the Uniform Arbitration Acts adopted across all States and Territories of Australia between 2010 to 2017. The abundance of Australian cases on UNCITRAL Model Law over the last decade is situated in the context of the wider body of international case law. Practicing arbitration in Australia or under the Model Law more generally requires this bible."
Louis Flannery QC, co-author of Merkin and Flannery on the (English) Arbitration Act 1996
"The dynamic duo of Professors Doug Jones and Janet Walker (who clearly are spending far too much time together) have teamed up to produce this, the third edition of Commercial Arbitration in Australia. Oz's answer to Mustill, Boyd, Merkin, Flannery and the rest. Combining scholarly analysis, clear and user-friendly prose, and easy-to-navigate sections on every aspect of a commercial arbitration down under from commencement to enforcement, what is missing from the 500 pages of brilliance that shines through in this treatise on commercial arbitration in Australia ain't worth knowing. I confidently predict that within a decade it will be cited with approval in common law courts far beyond the antipodean shores whose arbitral jurisprudence it so beautifully captures and crystallises."
Georgia Quick, President Australian Centre for International Commercial Arbitration (ACICA)
"The [Third Edition] is destined to once again become the 'go-to' Commercial Arbitration text in Australia. Presented in an invaluable annotated form and drawing on 10 rich years of judicial consideration of the uniform Commercial Arbitration Acts in Australia. Few are as well placed, as the authors, to give such valuable context to the extensively researched judicial pronouncements regarding the Model Law, not just in Australia but in other Model Law countries. Prof. Doug Jones AO has long been at the forefront of the development of international arbitration practice in Australia. In providing arbitration practitioners with this seminal text we are once again indebted to Prof. Jones and now also Prof. Walker for her additional insights."
Resource Downloads
General Downloads