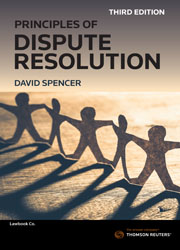 Principles of Dispute Resolution 3rd Edition
Book

$42.00* $105.00 RRP Save: $63.00 (60%)

Date: 05/05/2020

Code: 9780455244167

Lawbook Co., AUSTRALIA

Principles of Dispute Resolution 3rd Edition

Sale Price:

$42.00

Saving: $63.00
Description
Principles of Dispute Resolution 3rd edition explains the philosophy, theory and practice of dispute resolution in Australia.
The third edition has been updated with the latest amended legislation and new case law. Further, there is brand new materials on the theory of and value of conflict and the state's role in stealing conflict; and, disruptive technologies and dispute resolution. The third edition discusses the expansive nature of dispute resolution processes in the private and public sectors and the developing law around the practise of dispute resolution.
David Spencer is a leading researcher and writer in Australia on the development of the law of dispute resolution in Australia. He has been researching and writing on dispute resolution for nearly 30 years and is the Chief Editorial Consultant of the Australasian Dispute Resolution Journal. He is a solicitor, academic and mediator and therefore, brings a practical focus to the practise of dispute resolution.
Topics covered by this work include:
What is conflict and dispute resolution?
Negotiation
Mediation
Arbitration
Additional processes such as: conciliation; partnering; dispute advisers and review boards; and, adjudication, appraisals and determinations
Jurisdictionally specific hybrid processes, such as: collaborative law; restorative justice; hybrid and combined processes; and, online dispute resolution
Statutory or court-annexed dispute resolution schemes
Legal issues, such as: confidentiality; privilege; immunity; enforceability of settlement agreements; and, the drafting of dispute resolution clauses in contracts
Ethics and standards
The future of dispute resolution
Written in plain legal English, this text is a valuable guidebook to help students and practitioners alike understand the theory and practise of dispute resolution in Australia.