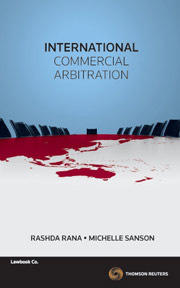 International Comm Abitration 1st ed - eBook + Book
Book+eBook

Date: 12/01/2011

Code: 30148427

Lawbook Co., AUSTRALIA

International Comm Abitration 1st ed - eBook + Book
Description
Author Rashda Rana explains why International Commercial Arbitration was written in this video.
International Commercial Arbitration as a dispute resolution mechanism has gained acceptance in most Asian countries and in the past few years has grown exponentially. The increase in arbitration cases is likely to continue against a backdrop of increasing cross border transactions and consequent cross border disputes. However, for practitioners new to this area of practice and students alike, there has been no authoritative text dealing with the Asia Pacific perspective of international arbitration to which they can turn.

This book focuses on the practice of international commercial arbitration in the Asia Pacific region. It examines the cultural differences influencing the Asian dispute resolution arena, covering developments in legislation, institutional arbitration rules and cases from the major international arbitration jurisdictions in the Asia Pacific region: Australia, China, Hong Kong, Singapore and Malaysia.

University students at every level, practitioners in private practice and in-house counsels will all find this new work highly useful. As an educative tool it will assist teachers and students alike. Readers will be able to self-assess their understanding by working through questions designed to test their knowledge through all stages of an arbitration, from drafting an effective and enforceable arbitration agreement to enforcement of an arbitral award.

Click the downloads tab to read the launch speech for International Commercial Arbitration from John Wakefield, President of the Chartered Institute of Arbitrators (Australia).
Editorial Reviews
From: (2011) 27 BCL 220
Reviewed by: Ian Nosworthy
Rashda Rana and Michelle Sanson have jointly written a valuable text which provides a straightforward introduction to international commercial arbitration.

Their stated aims are threefold:
1. To specifically address the approaches to international commercial arbitration in Australia,
Singapore, China and Malaysia.
2. To provide a semester length course for practitioners or students of international commercial
dispute resolution.
3. To offer a practical guide for lawyers and arbitrators.

In my view, the authors have succeeded in these aims with an approach which is both practical and straightforward. The text commences with a list of acronyms and a helpful glossary, which succinctly defines and explains concepts which even experienced practitioners coming to this area, may find elusive, such as "kompetenz-kompetenz" and interim measures.

The text commences with an introduction to international commercial arbitration and an analysis of the key issues, followed by the text of the chapter, and a summary of further reading and useful web links for research purposes. This basic chapter format is replicated in succeeding chapters.

The authors' analysis is thorough, comprehensive and logical. There is a thorough referencing of arbitration rules, including the Australian Centre for International Commercial Arbitration (ACICA), China International Economic and Trade Arbitration Commission (CIETAC), Hong Kong International Arbitration Centre (HKIAC), Kuala Lumpur Regional Centre for Arbitration (KLRCA), Singapore International Arbitration Centre (SIAC), as well as the London Court of International Arbitration (LCIA) and the International Chamber of Commerce's (ICC) rules. A helpful comparison of the institutional arbitration rules appears in Ch 4.

So that readers may understand the application of particular principles which are discussed in the text of each chapter, the authors have included helpful case examples which illustrate the points previously explained.

The text logically follows through the steps in pursuing an international commercial arbitration, from the arbitration agreement, through the applicable laws and arbitral seat, as well as the administration of an international commercial arbitration, whether institutional or ad hoc. The authors consider both the formation of the tribunal and challenges to the tribunal, as well as its jurisdiction and powers.

They then proceed to deal with the steps to the hearing and issues of importance such as confidentiality, interim measures of protection, court involvement and awards. A valuable part of each chapter is the reading list which appears at the conclusion. The reading lists offer the reader the option to explore further, in detail, specific issues discussed in the preceding chapter.

The authors provide a simple introduction to each topic at the commencement of each chapter.
For readers coming for the first time to deal with issues in international commercial arbitration, the introductions provide a simply expressed and concise analysis of the issues, which are then developed in more detail in the balance of the chapter.

International Commercial Arbitration is a practical and helpful text for those seeking an introduction to international commercial arbitration, and would be a worthwhile addition to the library of all practitioners or general counsel who have an interest in international commercial arbitration because the text describes the process clearly.

Table of Contents
1. Introduction and background
2. The Arbitration Agreement
3. Applicable Laws and Arbitral Seat
4. Arbitration Administration: Institutional and ad hoc
5. Arbitral Tribunal : Formation and Challenges
6. Arbitral Tribunal: Jurisdiction and Powers
7. Arbitral Procedure: Preliminary Conference to Hearing
8. Confidentiality in Arbitration
9. Interim Measures of Protection
10. Court Involvement in Arbitral Proceedings
11. Award: Interest, Currency and Costs
12. Awards: Enforcement and Challenges
13. Specialised Arbitrations: WTO and ICSID
Resource Downloads
General Downloads
Product Reviews
*
eBooks and packages including an eBook may not be returned once the software key has been supplied. Your rights as a customer to access and use the ProView™ software and a ProView eBook are subject to acceptance of the ProView content licence agreement.
NB
An email with a registration key and instructions for accessing your eBook will be sent after checkout. For existing ProView users the eBook will appear in your library after checkout.

Forthcoming/pre-order eBooks will be available after the publication date.

The ProView app is not currently available on Kindle. See the latest system requirements