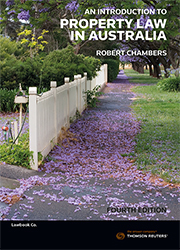 An Introduction to Property Law in Australia Fourth Edition - Book & eBook
Book+eBook

Date: 31/01/2019

Code: 42535091

Lawbook Co., AUSTRALIA

An Introduction to Property Law in Australia Fourth Edition - Book & eBook
Description
The fourth edition of An Introduction to Property Law in Australia is updated throughout to take account of new developments in all areas of property law, legislation, case law and academic opinion.
An Introduction to Property Law in Australia is designed to help the reader gain a deeper understanding of property law by explaining (in plain language) the analytical framework of the subject. This new edition has a broad coverage of almost every aspect of real and personal property law. Topics covered inlcude such diverse branches of property law as company shares, domestic partnerships, intellectual property, native title, natural resources and succession on death. it deals with all the various sources of property rights from adverse possession to unjust enrichment. Naturally, all the essentials are covered, starting with the meaning of property and moving through the full range of property concepts to finish with a full and lucid account of the Torrens system of land registration.
Table of Contents
I WHAT IS PROPERTY?
1. What is property?
2. The Things Subject to Property Rights
3. Distribution of Property
4. Taxonomy
II POSSESSION
5. Possession
6. Competing Claims to Possession
7. From Possession to Ownership
III THE VARIETY OF PROPERTY RIGHTS
8. Ownership
9. Tenure
10. Estates
11. Equitable Rights
12. Security Rights
13. Shared Rights
14. Non-Possessory Rights to Land
15. Rights to Intangible Things
16. Licences
17. Native Title
IV CREATION AND TRANSFER OF PROPERTY RIGHTS
18. Creation and Transfer by Consent
19. Succession on Death
20. Detrimental Reliance
21. Unjust Enrichment
22. Wrongdoing
23. Physical Changes to Things
V PRIORITY OF PROPERTY RIGHTS
24. Priority of Legal Rights
25. Priority of Equitable Rights
VI REGISTRATION OF PROPERTY RIGHTS
26. Deeds Registration
27. Torrens System
28. Personal Property Security
*
eBooks and packages including an eBook may not be returned once the software key has been supplied. Your rights as a customer to access and use the ProViewâ"¢ software and a ProView eBook are subject to acceptance of the ProView content licence agreement.
NB
An email with a registration key and instructions for accessing your eBook will be sent after checkout. For existing ProView users the eBook will appear in your library after checkout.

Forthcoming/pre-order eBooks will be available after the publication date.

The ProView app is not currently available on Kindle. See the latest system requirements