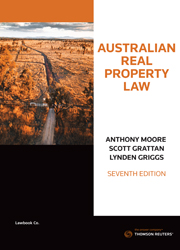 Australian Real Property Law Seventh Edition - Book
Book

$69.20* $173.00 RRP Save: $103.80 (60%)

Date: 10/02/2020

Code: 9780455243764

Lawbook Co., AUSTRALIA

Australian Real Property Law Seventh Edition - Book

Sale Price:

$69.20

Saving: $103.80
Description
For close to 25 years, Australian Real Property Law has been a preeminent land law text for students within university property law units and the practising profession. The 7th edition continues to provide coverage of all states and territories and remains a first point of reference for any person with a land law problem.
All chapters have been edited to highlight new case-law authority and legislative change.
The text is complemented by the companion text Australian Property Law, Cases and Materials.