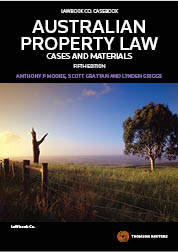 Australian Property Law: Cases and Materials Fifth Edition - Book & eBook
Book+eBook

Date: 15/06/2016

Code: 41937001

Lawbook Co., AUSTRALIA

Australian Property Law: Cases and Materials Fifth Edition - Book & eBook
Description
Australian Property Law: Cases and Materials, 5th Edition remains a comprehensive collection of statutes, cases and reference material on Australian real and personal property with notes and questions to provoke fuller understanding and matters for reconsideration.
The work is again divided into five parts covering the meaning of property law, title, dealings in land and goods, interaction of property co-holders and neighbourhood reconciliation.
This casebook is designed as an independent work but may be used as a complementary volume to the sixth edition of Australian Real Property Law which is also divided into the same five parts and is an exposition of much of the law represented by the materials in this work.
Australian material is emphasised in this book, including the place of all interests under the Torrens system, analysis of detailed statutory provisions and consideration of the legal response to the issues of an urbanised multi-cultural society where land is very expensive.
The material offers flexibility for course design to concentrate on land title, dealings and interests or to contrast rights in land, goods and other personal property or to adopt a social emphasis such as the provision of housing through strata and community title, tenancies and other forms of rights to accommodation.
This fifth edition extends the examination of personal property to priority between holders of personal property security interests under a new statutory regime, passing of property under a contract for the sale of goods, co-ownership of goods and bailments.
New developments highlighted include the impact of indefeasibility upon subsidiary interests in a transaction, duties on buyers and mortgagees to discover identity fraud, native title and commercial interests, the property effects of land contracts, means of terminating co-ownership, continuation of tenancies after domestic violence and long-term occupation in caravan parks.
Table of Contents
Part 1 - Context of Property Law
1. Concept of Property
Part 2 - Title to Goods and Land
2. Foundational Concepts of Land Ownership, Tenures, Estates, Trusts and Priorities
3. Possession
4. Title to Personal Property
5. The Torrens System: The Principle of Indefeasibility
6. Unregistered Interests in Torrens Land: Nature and Priorities
7. Public Lands and Land Rights of Indigenous Peoples
8. Security interests in Land and Personal Property
Part 3 - Dealings in Land
9. Dispositions of Land and Goods
10. Defeasible transactions
Part 4 - Division of Ownership of Land
11. Future Interests and Perpetuities
12. Co-ownership
13. Management where Ownership is Divided
14. Leases
15. Housing
Part 5 - Relations between Neighbouring Landholders
16. Scope and Meaning of Real Property
17. Easements and Related Interests
18. Land Use Agreements: Restrictive and Positive Covenants

*
eBooks and packages including an eBook may not be returned once the software key has been supplied. Your rights as a customer to access and use the ProView™ software and a ProView eBook are subject to acceptance of the ProView content licence agreement.
NB
An email with a registration key and instructions for accessing your eBook will be sent after checkout. For existing ProView users the eBook will appear in your library after checkout.

Forthcoming/pre-order eBooks will be available after the publication date.

The ProView app is not currently available on Kindle. See the latest system requirements