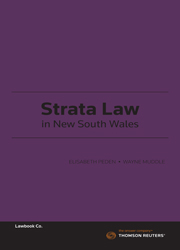 Strata Law in New South Wales
Book

$55.20* $138.00 RRP Save: $82.80 (60%)

Date: 23/08/2021

Code: 9780455501703

Lawbook Co., AUSTRALIA

Strata Law in New South Wales

Sale Price:

$55.20

Saving: $82.80
Description
"Strata Law in NSW" is to be used as a practical manual for strata meetings, appearances in the NSW Civil and Administrative Tribunal or Courts in relation to strata related litigation and as a reference work.
It is split into two distinct parts. The first part provides an overarching explanation of the operation of essential concepts of strata law and covers terms such as common property, the strata scheme, the committee, the role of the Tribunal (NSW Civil and Administrative Tribunal) and the legal application of the legislation. The second part contains the Principal Act, the Strata Scheme Management Act 2015 with detailed annotated commentary discussing the provisions of the Act in the context of judicial interpretation.
"Strata Law in NSW" will be an invaluable tool for the growing number of strata lawyers, strata managers and unit owners who are involved in strata scheme committees.