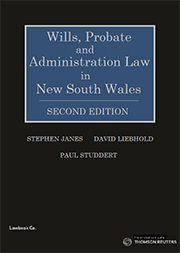 Wills, Probate and Administration Law in NSW 2e - eBook
eBook - ProView

Forthcoming Release, 30/11/2019

Code: 9780455238678

Lawbook Co., AUSTRALIA

Wills, Probate and Administration Law in NSW 2e - eBook
Description
Wills, Probate and Administration Law in NSW 2e provides annotated commentary on the two primary pieces of legislation which govern the passing of property on death in NSW: the Succession Act 2006 and the Probate and Administration Act 1898.
Since this text was last published in 1996, this area of law has undergone significant change. The legislation in relation to the making, alteration and revocation of wills, and family provision, as well as the reformed intestacy rules, are now contained in the Succession Act. The Probate and Administration Act focuses on grants of representation and administration of estates, and the rewritten Probate Rules have introduced new processes and procedures. New and developing areas are covered including statutory wills, informal wills and rectification. For the first time a detailed section by section commentary on family provision is included with the Succession Act.
The nature of these changes is such that this new edition is, in many respects, a new book, but it draws on a lineage that traces back to an early key text, namely, Hastings and Weir Probate Law and Practice, first published in 1939. The annotations deal with both the specific provisions and the common law principles. The Probate Rules also appear in this volume, along with forms and precedents that are accompanied by commentary that deals with many situations that practitioners may find arise in court.
Wills, Probate and Administration Law in NSW 2e is an invaluable reference for practitioners who need in-depth understanding of the relevant legal principles of the law and practice of wills and estates in NSW.
*
eBooks and packages including an eBook may not be returned once the software key has been supplied. Your rights as a customer to access and use the ProView™ software and a ProView eBook are subject to acceptance of the ProView content licence agreement.
NB
An email with a registration key and instructions for accessing your eBook will be sent after checkout. For existing ProView users the eBook will appear in your library after checkout.

Forthcoming/pre-order eBooks will be available after the publication date.

The ProView app is not currently available on Kindle. See the latest system requirements
Pre-order: This item will be available on: 30 Nov 2019