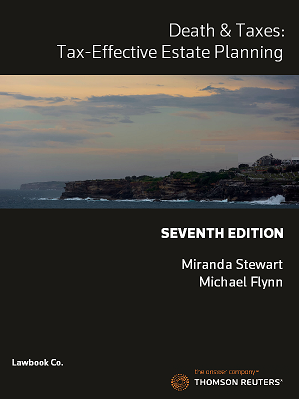 Death & Taxes: Tax Effective Estate Planning Seventh Edition - Book
Book

Forthcoming Release, 10/12/2021

Code: 9780455502137

Thomson Reuters, AUSTRALIA

Death & Taxes: Tax Effective Estate Planning Seventh Edition - Book
Description
Death & Taxes: Tax Effective Estate Planning is a rigorous and accessible guide to the tax consequences of death in Australia, including income tax, CGT, GST, state and territory duties and land tax.
Death & Taxes: Tax Effective Estate Planning will help you to plan and prepare better outcomes for your clients through an enhanced understanding of the impact of tax laws on all assets controlled by an individual at death.
This consolidated guide to managing the affairs of the deceased will give you the confidence to advise on estate planning and the tax consequences of death.
The Seventh Edition incorporates new developments since 2014, including:
New rules for taxing distributions from testamentary trusts to minors
Practical Compliance Guideline PCG 2018/4 about personal representatives' tax liabilities
Practical Compliance Guideline PCG 2019/5 about extending the main residence exemption beyond 2 years after death
New CGT and GST withholding obligations on personal representatives who sell properties.
Table of Contents
Preface
Acknowledgments
Glossary
Abbreviations
Table of Contents
Part 1 Introduction, overview and estate planning
Part 2 Finalising the tax affairs of a deceased individual
Part 3 Taxation of deceased estates and testamentary trusts
Part 4 Taxation issues for beneficiaries of deceased estates
Part 5 Philanthropy and tax-effective charitable giving
Table of Statutes
Table of Cases
Rulings and determinations table
Appendix 1: Useful contacts
Appendix 2: Tax rates
Index
* Pre-order: This item will be available on: 10 Dec 2021