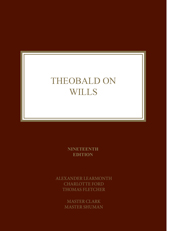 Theobald on Wills 19th Edition
Book

Date: 31/03/2021

Code: 9780414083707

Sweet & Maxwell, UNITED KINGDOM

Theobald on Wills 19th Edition
Description
Theobald on Wills provides an unrivalled blend of academic analysis and practical advice on the law of wills. It covers every aspect of the subject, from the fundamental principles of will making to a wide range of practical issues and discussion of the latest case law. This new edition:
Significantly expands the treatment of the formal and substantial validity of wills, including a new section on the new Wills Act 1837 (Electronic Communications) (Amendment) (Coronavirus) Order 2020 and new material from Professor Robin Jacoby on pneumonia and hypoxia as potential causes of incapacity.
Contains substantial new material on formal and substantial validity; revocation and revival; incorporation of documents; secret trusts; and the impact of human rights on the interests of children born outside the marriage.
Includes the essential treatment for practitioners on the practice and procedure to be adopted for contentious probate claims and the procedures available for issues relating to the construction and rectification of wills.
Offers guidance on alternative dispute resolution in the context of wills.
Key features:
Explains the fundamental principles of will making, clarifying complex concepts in clear English
Goes through the general principles of construction and the admissibility of evidence
Offers guidance on the interpretation of wills and the meaning of words for the purposes of construing wills
Shows how the courts have interpreted the law through detailed analysis of case law
Identifies problems which may arise in practice and provides possible solutions
Offers advice on procedural matters including the resolution of difficulties by court order and mediation
Covers related topics such as administration of estates and the law of trusts
Table of Contents
Foreword to the 18th Edition of Theobald on Wills
Preface
List of Books
Table of Cases
Table of Statutes
Table of Statutory Instruments
SECTION A: INTRODUCTION
CHAPTER 1. WILLS AND OTHER TESTAMENTARY INSTRUMENTS
CHAPTER 2. WILLS AND CONFLICTS OF LAWS
SECTION B: MAKING A WILL
CHAPTER 3. THE FORMAL VALIDITY OFWILLS
CHAPTER 5. INCORPORATION OF DOCUMENTS AND SECRET TRUSTS
CHAPTER 6. ALTERATIONS
CHAPTER 7. REVOCATION, REVIVAL AND REPUBLICATION
CHAPTER 8. WHAT PROPERTYMAY BE DISPOSED OF BYWILL?
CHAPTER 9. THE EQUITABLE DOCTRINE OF ELECTION
CHAPTER 10. WHO MAY BE DEVISEES OR LEGATEES?
SECTION C: PROCEDURE FOR CONTENTIOUS PROBATE CLAIMS
CHAPTER 11. PRELIMINARY STEPS AND PARTIES
CHAPTER 12. THE CLAIM FORM, ACKNOWLEDGEMENT, EVIDENCE OF TESTAMENTARY
CHAPTER 13. CASE MANAGEMENT AND PRE-TRIAL PROCEDURE
CHAPTER 14. TRIAL
CHAPTER 15. COSTS
CHAPTER 16. PROVISION FOR THE DECEASED'S FAMILY AND DEPENDANTS
SECTION D: UNDERSTANDING A WILL
CHAPTER 17. ADMISSIBILITY OF EVIDENCE AS AN AID TO CONSTRUCTION
CHAPTER 18. GENERAL PRINCIPLES OF CONSTRUCTION
CHAPTER 19. RECTIFICATION OFWILLS
CHAPTER 20. PROCEDURE IN OTHER CLAIMS CONCERNINGWILLS
CHAPTER 21. TYPES OF LEGACY
CHAPTER 22. GIFTS OVER
CHAPTER 23. TESTAMENTARY OPTIONS
CHAPTER 24. GIFTS OF ANNUITIES
CHAPTER 25. GIFTS FOR CHARITABLE PURPOSES
CHAPTER 26. RESIDUARY GIFTS AND PARTIAL INTESTACY
CHAPTER 27. DESCRIPTION OF THINGS
CHAPTER 28. DESCRIPTION OF BENEFICIARIES: GENERAL
CHAPTER 29. DESCRIPTION OF BENEFICIARIES: RELATIONSHIPS
CHAPTER 30. DESCRIPTION OF BENEFICIARIES: CHILDREN
CHAPTER 31. DESCRIPTION OF BENEFICIARIES: CLASS GIFTS
CHAPTER 32. DESCRIPTIONS OF INTERESTS
CHAPTER 34. VESTING
CHAPTER 35. PERPETUITY AND ACCUMULATION
CHAPTER 36. EXECUTION OF POWERS
SECTION E: GIVING EFFECT TO WILLS
CHAPTER 37. PROBATE AND ITS EFFECT
CHAPTER 38. ADMINISTRATION
CHAPTER 39. ADMINISTRATIVE POWERS OF TRUSTEES
CHAPTER 40. RULES AGAINST DOUBLE PORTIONS AND OTHER DOUBLE PROVISION
CHAPTER 41. ADEMPTION
CHAPTER 42. INCOME OR INTEREST CARRIED BY GIFTS
CHAPTER 43. RIGHTS BETWEEN TENANT FOR LIFE AND REMAINDERMAN
CHAPTER 44. PROFESSIONAL NEGLIGENCE