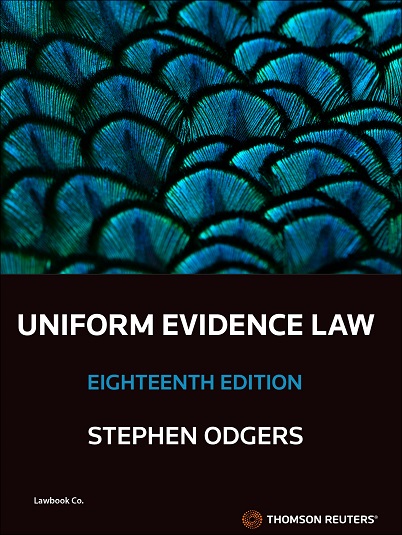 Uniform Evidence Law 18th Edition - Book
Book

$164.90* $194.00 RRP Save: $29.10 (15%)

New Release, 27/09/2023

Code: 9780455503035

Lawbook Co., AUSTRALIA

Uniform Evidence Law 18th Edition - Book

Sale Price:

$164.90

Saving: $29.10
Description
Uniform Evidence Law 18th Edition provides Australia's leading guidance on the uniform evidence law for barristers, courts, litigators and students alike. With up to a quarter of the legislative provisions reviewed in the courts annually, it is essential to have a current copy at hand.
UPDATED ANNUALLY
Uniform Evidence Law is an annual publication, ensuring customers have the most updated text on the market. This currency combines with the unchallenged authority of Stephen Odgers' commentary to provide the premium product on uniform evidence. The affordable price ensures access to this best-value treatment.
NEW TO THE 18th EDITION
Legal developments are thoroughly considered. High Court judgments referred to include:
Tendency evidence requirement of "close similarity" applies where "there is little or no other evidence of identity apart from the tendency evidence, and the identity of the perpetrator" is "at large": TL v The King [2022] HCA 35.
Appellate and lower court judgments have been distilled and incorporated into the work. Key matters addressed include:
Reasonable steps to secure the attendance of a witness for the purposes of hearsay rule exceptions: Clancy v Plaintiffs A, B, C and D; Bird v Plaintiffs A, B, C and D [2022] NSWCA 119.
Out-of-court "opinion" falls within the scope of hearsay exceptions in ss 63-65: Herron v HarperCollins Publishers Australia Pty Ltd [2022] FCAFC 68.
Specialised knowledge requirement for expert opinion evidence: AJ v R [2022] NSWCCA 136.
Where expert opinion is based on opinions expressed in other materials, those other opinions are admissible and may be "relied on for all purposes" pursuant to s 77: Malone on behalf of the Western Kangoulu People v State of Queensland (No 3) [2022] FCA 827.
Using s 136 to limit the use of an article put to an expert witness during questioning: Karpik v Carnival plc (The Ruby Princess) (Evidential Ruling) [2022] FCA 1318.
Unreliability of an admission is sufficient reason to exclude the evidence under s 90: Director of Public Prosecutions (NSW) v Sullivan [2022] NSWCCA 183.
New tendency evidence rules in NSW, ACT & NT regarding a defendant's sexual interest in children: Restricted Judgment [2023] NSWCCA 163.
Client legal privilege and "in-house" lawyers: Andrianakis v Uber Technologies Inc & Ors; Taxi Apps Pty Ltd v Uber Technologies Inc & Ors [2022] VSC 196.
Waiver of privilege by partial disclosure of communications or documents: TerraCom Ltd v Australian Securities and Investments Commission [2022] FCAFC 151.
Loss of settlement negotiation privilege: Australian Securities and Investments Commission v Union Standard International Group Pty (Trial Ruling No 1) [2023] FCA 169.
Judicial directions to jury may not eliminate unfair prejudice: East (a pseudonym) v The King [2022] VSCA 214.
With its popular and highly accessible annotated legislation format, and comprehensive commentary, Uniform Evidence Law 18th Edition is the authoritative voice on evidence law in NSW, the Commonwealth, Victoria, Tasmania, the ACT and Northern Territory.