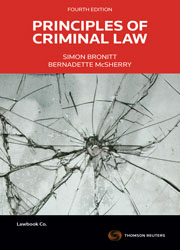 Principles of Criminal Law Fourth Edition - Book
Book

Date: 30/05/2017

Code: 9780455237909

Lawbook Co., AUSTRALIA

Principles of Criminal Law Fourth Edition - Book
Description
High level criminal law text that invigorates and challenges students, encouraging them to look at the law from different viewpoints.
Principles of Criminal Law 4th edition, explores the criminal law of every Australian jurisdiction and seeks to place it into the wider context of Australian society. It examines the principles of the law in detail, providing a thought-provoking and engaging experience for the reader by analysing and challenging these principles from interdisciplinary perspectives, such as sociology, psychology, criminology, and legal theory.
This fourth edition is updated in all areas and contains topical sections on the expanding boundaries of federal law as well as the development of "cybercrimes". Other areas that have been significantly updated include:
defences to homicide;
extended common purpose and acting in concert doctrines;
sexual offences;
offences and defences relating to family violence; and
conspiracy to commit money laundering offences.
This edition maintains a strong focus on the importance of reform, particularly in the light of human rights. It outlines key academic and policy debates, as well as providing comparative insights on the direction of criminal law from related jurisdictions.
Principles of Criminal Law 4th edition, is a valuable resource for students of criminal law, advanced criminal law, criminology and criminal justice. Judges, scholars and practitioners seeking a criminal law text with great depth of analysis combined with insight into the future development of the law will also find it of value.
Table of Contents
Part I Theory and Principles
Chapter 1 – Theory and the Criminal Law
Chapter 2 – General Principles
Chapter 3 – Principles of Criminal responsibility
Part II Justifications and Excuses
Chapter 4 – Mental State Defences
Chapter 5 – Partial Defences
Chapter 6 – Self-Help Defences
Part III Extending Criminal Responsibility
Chapter 7 – Complicity
Chapter 8 – Inchoate Offences
Part IV Specific Crimes
Chapter 9 – Unlawful Killing
Chapter 10 – Offences Against the Person
Chapter 11 – Sexual Offences
Chapter 12 – Property Offences
Chapter 13 – Public Order
Chapter 14 – Drug Offences
Chapter 15 – International and Transnational Crimes