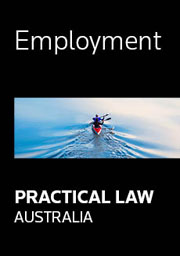 Practical Law Australia - Employment
Online

Date:

Code: 41947703

PRACTICAL LAW - AU, AUSTRALIA

Enquiry Sent

A member of our support team will be in touch with you within 1 business day.

Sales Enquiry Form

Practical Law Australia - Employment

For questions about how to use this product or to get help with your account please visit the Help Centre or Contact Support directly.
Description
Practical Law Australia - Employment provides up-to-date and practical know-how on employment law and practice. Australian workplace relations law is made up of a myriad of often complicated and interrelated federal, state and common laws. Our expert writers apply their practice experience to this complex area of the law to provide both legal and practical know-how-to for legal practitioners, in-house counsel, HR professionals and employee and employer associations.
Coverage includes:
Anti-bullying
Cross-border and immigration
Employment contracts
Enterprise bargaining
Federal discrimination and harassment
Federal unfair dismissal
General protections
Ill and injured employees
Industrial action
National employment standards
Post-employment obligations
Practice and procedure in the FWC
Redundancy
Right of entry
Senior executive terms and conditions
Types of engagement
Visit Practical Law Australia for more information.