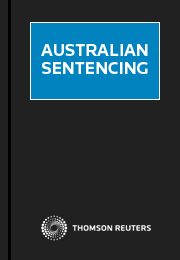 Australian Sentencing eSubscription
eSub - ProView

Date: 03/05/2013

Code: 41504327

Thomson Reuters, AUSTRALIA

Enquiry Sent

A member of our support team will be in touch with you within 1 business day.

Sales Enquiry Form

Australian Sentencing eSubscription

For questions about how to use this product or to get help with your account please visit the Help Centre or Contact Support directly.
Description
Quickly and thoroughly prepare for sentencing pleas and appeals with this Thomson Reuters service available in online and looseleaf (1 volume) formats.

Practical insights: Australian Sentencing provides practical offence- and principle-based- guidance on considerations that impact on sentence. It addresses themes and issues applicable across Australia while fully addressing jurisdiction specifics.

Throughout the service, Mirko Bagaric and Richard Edney apply both their criminal law practice experience and their analytical skills to assisting practitioners in this complex area where the intricate interplay of factors has significant outcomes.

Organised to help your work: Easily located and well structured commentary will be equally useful whether you're advising a client, appearing for the defence or prosecution at a sentencing hearing, or running a trial. Start with the specific offence in issue, and see what factors are particularly important for that offence; also check the applicable sentencing tariff. Turn to the particular aggravating and mitigating factors and find detailed guidance on how these are considered by the courts. Consult the practical review of the objectives of sentencing to take into how these too affect sentencing outcomes in particular cases.

The Australia-wide approach, with state-specific coverage is particularly timely as courts around the country are recognising the benefit of consistency in sentencing, albeit with care for their jurisdiction's jurisprudence. Now too the High Court is a significant influence toward consistency in sentencing practice, seeking consistency in the application of the relevant legal principles. Supporting these trends, Australian Sentencing assists practitioners remain current with the detail and significance of the huge volume of court of appeal sentencing decisions - from their own courts and from around the country.

Complementing the detail of sentencing law, an early chapter addresses the procedural and evidential matters of a sentencing hearing while current core sentencing legislation from around Australia is included for ease of subscriber reference.

With Australian Sentencing, updated 6 times annually, you'll be well-placed to ensure you take everything essential into account in order to achieve the best outcomes in the circumstances. Updates help you keep up to date with dynamic legislation and judicial decisions around Australia.