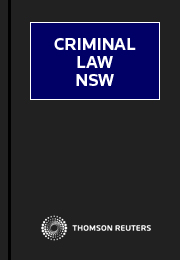 Criminal Law NSW - eSub
eSub - ProView

Date: 13/09/2012

Code: 41307277

Lawbook Co., AUSTRALIA

Enquiry Sent

A member of our support team will be in touch with you within 1 business day.

Sales Enquiry Form

Criminal Law NSW - eSub

For questions about how to use this product or to get help with your account please visit the Help Centre or Contact Support directly.
Description
Criminal Law NSW offers comprehensive coverage of the criminal law in NSW for both summary and indictable offences, providing subscribers with:
Authoritative and thorough commentary to all the major legislation with offences broken down into their elements and, where possible, draft indictments to support pre-trial preparation or court appearances.
Discussions that are topical and extensively cross-referenced and structured to follow the general conduct of a criminal law matter which allows for intuitive researching.