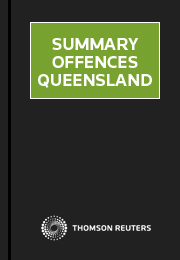 Summary Offences Qld eSubscription
eSub - ProView

Date: 31/05/2013

Code: 41407273

Lawbook Co., AUSTRALIA

Enquiry Sent

A member of our support team will be in touch with you within 1 business day.

Sales Enquiry Form

Summary Offences Qld eSubscription

For questions about how to use this product or to get help with your account please visit the Help Centre or Contact Support directly.
Description
Only service of its kind specifically dedicated to Criminal Law in Queensland
Mackenzie and Tucker's Summary Offences Queensland provides subscribers with important practice points and in depth annotations on all the essential legislation and issues of criminal procedure. The service includes in depth commentary on the latest cases and both technical and practical advice all specifically aimed at practitioners in the criminal jurisdiction of the Magistrates' Court of Queensland.
Features
Authoritative, thorough and challenging commentary: offers comprehensive annotations on relevant legislation, in particular the Penalties and Sentences Act 1992, offering technical and practical advice regarding legal precepts and procedure.
Easy to use: thematic arrangement across the service as well as commentary structured to facilitate research.
Comprehensive: cross references to Motor Vehicle Law Queensland ensures coverage of both summary offences as well as the civil and criminal aspects of the law.
COMPLETE YOUR QUEENSLAND CRIMINAL LAW LIBRARY