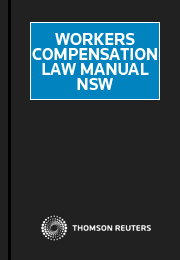 Workers Compensation Law Manual NSW eSubscription
eSub - ProView

Date: 01/11/2014

Code: 41594327

Thomson Reuters, AUSTRALIA

Enquiry Sent

A member of our support team will be in touch with you within 1 business day.

Sales Enquiry Form

Workers Compensation Law Manual NSW eSubscription

For questions about how to use this product or to get help with your account please visit the Help Centre or Contact Support directly.
Description
Workers Compensation Law Manual NSW provides practical guidance and information necessary for conducting a worker's compensation claim. The service covers important features of the Workers Compensation Act 1987 and Workplace Injury Management and Workers Compensation Act 1998, including implications for common law actions, types of claim/making a claim, liabilities to the Commonwealth, employers' obligations to rehabilitate employees, and the role of the WorkCover Independent Review Officer. Volume 2 also includes relevant legislation, forms, guides and practice notes.
The current sole contributing author is Richard Perrignon, Barrister, Arbitrator with the Workers Compensation Commission and Senior Member at NCAT.
Previous author team included Rodney Parsons, John Wynyard and Ramon Loyola.