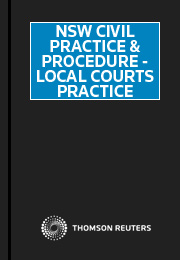 NSW Civil Practice & Procedure - Local Courts Practice
Looseleaf

Date: 18/09/2012

Code: 30125313

Lawbook Co., AUSTRALIA

Enquiry Sent

A member of our support team will be in touch with you within 1 business day.

Sales Enquiry Form

NSW Civil Practice & Procedure - Local Courts Practice

For questions about how to use this product or to get help with your account please visit the Help Centre or Contact Support directly.
Description
The three volume coverage of the Local Court civil jurisdiction means we recognise that practitioners dealing with the Local Court need more practical and outcome-focussed coverage. In particular, the Practice Guide explains the process for matters run in the Local Court and is set out as a narrative guide to practice, divided into the various stages of the conduct of a matter, while the Court Guide covers all the core legislation and rules with annotations relating to Local Court procedure.
The easy to use layout of the service with shaded legislation, bordered boxes around contents, mini-tabcards separating each Part of the Uniform Civil Procedure Rules and standard headings under each Rule allows information to be located quickly.
Volume 1 of the print version is ideal for carrying to court while the remainder of the service is for desk research.
*
Subscription price includes 12 months of updating releases. Further updates invoiced separately.