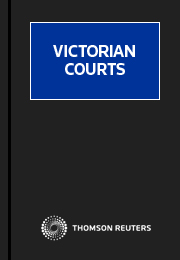 Victorian Courts looseleaf
Looseleaf

Date: 18/09/2012

Code: 30118203

Lawbook Co., AUSTRALIA

Enquiry Sent

A member of our support team will be in touch with you within 1 business day.

Sales Enquiry Form

Victorian Courts looseleaf

For questions about how to use this product or to get help with your account please visit the Help Centre or Contact Support directly.
Description
Victorian Courts is a subscription service dedicated to providing extensive coverage of practice and procedure in the Victorian courts in civil jurisdictions. It contains the essential legislation, practice materials, case law and commentary that practitioners require. Comprehensive civil procedure coverage ranges from the Magistrates Court to the County and Supreme Courts. The author, Gerard Nash QC is a leading member of the Victorian Bar.

The service contains the following material:
Supreme Court (General Civil Procedure) Rules 2015 and County Court Civil Procedure Rules 2008 with extensive commentary on Court Orders;
Annotated Supreme Court Act 1986 and County Court Act 1958;
Annotated Magistrates' Court Act 1989 and Magistrates' Court General Civil Procedure Rules 2010;
Annotated Civil Procedure Act 2010 (covering the civil jurisdiction of the Supreme, County and Magistrates Courts)
Forms and costs, practice notes and practice directions, and related legislation.
*
Subscription price includes 12 months of updating releases. Further updates invoiced separately.