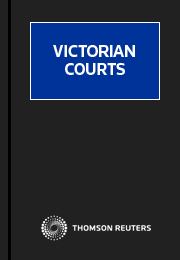 Victorian Courts eSubscription
eSub - ProView

Date: 13/08/2013

Code: 41521726

Lawbook Co., AUSTRALIA

Enquiry Sent

A member of our support team will be in touch with you within 1 business day.

Sales Enquiry Form

Victorian Courts eSubscription

For questions about how to use this product or to get help with your account please visit the Help Centre or Contact Support directly.
Description
Victorian Courts is the complete library dedicated to the comprehensive coverage of all jurisdictions across all Courts, offering:
Authoritative, concise and practical commentary focussed on critical analysis of the legislation and case law to provide incisive assistance to the Victorian practitioner.
Convenience with the reproduction of forms and costs, practice notes and practice directions, and key legislation pertaining to each respective jurisdiction.