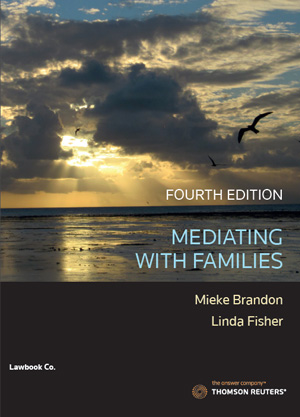 Mediating with Families 4e - eBook
eBook - ProView

Date: 16/08/2018

Code: 9780455500553

Lawbook Co., AUSTRALIA

Mediating with Families 4e - eBook
Description
"…the breadth of the book presents a very special sensitivity, understanding and compassion…taking readers through the maze of resolving family conflict (reflecting) the role of the family mediator as practitioner maintaining an open mind." - Tom Stodulka, review in Pulse e-newsletter, Resolution Institute
"A signature attribute of (this work) is that it has maintained its versatility and relevance through numerous sets of changing values...the signature style that permneates each edition remains as welcoming, insightful, understated highly accessible accessibie as ever...The versatility of the Second Edition, was confirmed in the Third Edition and remains a distinguishing attribute of the Fourth." - Book review by Margaret Halsmith in The Arbitrator & Mediator May 2019
Mediating with Families Fourth Edition provides unique insights into the theory and practice of family mediation in Australia. It considers the variety of family relationships, such as those between same-sex, de facto and married couples, parents and adolescents, extended family relationships, siblings and their elderly parents.
This work is, without doubt, the most recommended text for Family Dispute Resolution (FDR) as well as anyone working with families in other settings.
Mediating with Families has established itself as the pre-eminent resource for:
• Seasoned family dispute resolution practitioners and those starting out in the field;
• Lecturers and trainers in family dispute resolution;
• Administrators and managers of family relationship centres;
• Family lawyers, collaborative lawyers, child consultants, social workers and psychologists; and
• Mediators interested in working with families, in all their variety, to resolve disputes.
The authors have thoroughly revised the work, capturing a wide range of new developments in family mediation. In particular, they consider the diversity of approaches and contexts for separating or separated parents seeking FDR.
They discuss assessing suitability for facilitative mediation across different family relationships covering, for instance, issues of power and control, family violence, the parties' motivations, and their capacity to be both self-determined and to make realistic commitments.
Some of the areas discussed are the making of a parenting plan, the distribution of assets and debts, negotiation of a family estate, and making a contract about behaviours between parents and adolescents.
The mediation process is explained step-by-step, together with the role of the mediator and the appropriate skills and techniques to be used. Also addressed are additional practice considerations such as shuttle, co-mediation, and the child's voice in mediation. As well, farm debt mediation, conciliation, collaborative law, and property arbitration are discussed.
Mediating with Families Fourth Edition includes many case studies and examples. These inform readers and also challenge them to consider how their own values and beliefs can influence the mediation process.
*
eBooks and packages including an eBook may not be returned once the software key has been supplied. Your rights as a customer to access and use the ProView™ software and a ProView eBook are subject to acceptance of the ProView content licence agreement.
NB
An email with a registration key and instructions for accessing your eBook will be sent after checkout. For existing ProView users the eBook will appear in your library after checkout.

Forthcoming/pre-order eBooks will be available after the publication date.

The ProView app is not currently available on Kindle. See the latest system requirements