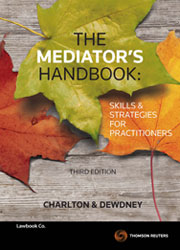 The Mediator's Handbook 3rd Edition Book + eBook
Book+eBook

Date: 04/09/2014

Code: 41655027

Thomson Reuters, AUSTRALIA

The Mediator's Handbook 3rd Edition Book + eBook
Description
(Among) contributors to the Australian literature on mediation … none stand higher than the authors of this third edition of The Mediator's Handbook. Their contributions to the "conflict competence" of our communities, our citizenry and … institutions have been remarkable. (It) continues to be a "must have" compendium. – Paul Lewis in (2016) 27 Australian Dispute Resolution Journal 244
The Mediator's Handbook Third Edition is an established and highly respected work which assists both experienced and newly qualified mediators who wish to expand their range of skills in this ever-evolving field.
The mediation process is explained in simple steps applicable to all forms of dispute and clearly outlines the required skills, techniques and strategies, especially communication skills. Importantly, variations to the mediation process are explained as are the roles of advisers, support persons and interpreters.
In this Third Edition, there has been significant revision to reflect new developments in mediation since the previous edition published in 2004. Existing chapters have been updated, in particular the following:
Chapter 7 – Stage 6 - Negotiations and Problem Solving has an expanded discussion on "options";
Chapter 12 – Shuttle Negotiation and Shuttle Mediation is expanded to outline several ways of proceeding; and
Chapter 18 – Communication Skills now incorporates content about "constructive listening".
Four new chapters have been added:
Chapter 13 – Family Dispute Resolution wherein procedures are now prescribed by law;
Chapter 14 – Intake and how this might be achieved;
Chapter 19 – Questions setting out the different types of questions and where they may be applied;
Chapter 20 – Facilitating Direct Communication;
Chapter 22 – Underlying Needs and their application in a dispute resolution context.
The Mediator's Handbook Third Edition combines practical commentary and skills development from three exemplars of the field, providing a logical model with which to develop the use of structured strategies and skills. This work is an essential reference resource for all mediators, in every session they facilitate.
*
eBooks and packages including an eBook may not be returned once the software key has been supplied. Your rights as a customer to access and use the ProView™ software and a ProView eBook are subject to acceptance of the ProView content licence agreement.
NB
An email with a registration key and instructions for accessing your eBook will be sent after checkout. For existing ProView users the eBook will appear in your library after checkout.

Forthcoming/pre-order eBooks will be available after the publication date.

The ProView app is not currently available on Kindle. See the latest system requirements