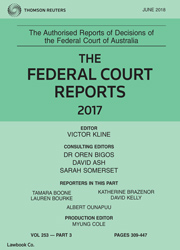 Federal Court Reports Parts Only
Report Series

Date: 18/09/2012

Code: 30121369

Lawbook Co., AUSTRALIA

Enquiry Sent

A member of our support team will be in touch with you within 1 business day.

Sales Enquiry Form

Federal Court Reports Parts Only

For questions about how to use this product or to get help with your account please visit the Help Centre or Contact Support directly.
Description
The Federal Court Reports are a must-have for the practice and research of federal law in Australia. As the authorised reports of the Federal Court, the Federal Court Reports publish full text decisions on important and diverse areas of law such as: taxation, corporations law, intellectual property, environmental protection, telecommunications, equity, immigration and freedom of information.
Being the authorised reports, every judgment and headnote is checked by the presiding Judges of the Federal Court before inclusion in the Federal Court Reports. Practitioners are therefore assured that they can confidently reference the most preferred citations and headnotes in court, and that each entry provides an accurate summary of the judgment when researching.
Each reported judgment includes a comprehensive headnote, written by a fully qualified legal professional, which highlights the key issues of each case. The Federal Court Reports also include tables of cases reported, affirmed, reversed, overruled, applied or judicially commented on and cited, making it easy to find the information you need, fast.
Subscribe to the Federal Court Reports online at Westlaw AU for a full archive and printable pdf versions of the reports. Powered by FirstPoint, Thomson Reuters' premium case research database, on Westlaw AU subscribers gain access to comprehensive case digest notes including currency information, commentary references and related cases.
*
Price is for an annual subscription and includes all Parts and Consolidated Indexes issued during this period. Does not include Bound Volumes or Backset. The backset is available separately at an additional price. Subscriptions are also available on a charge per volume basis – please contact Thomson Reuters for further details.