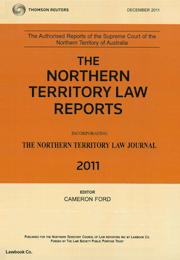 Northern Territory Law Reports Bound Volumes Only
Report Series

Date: 26/06/2012

Code: 30144244

Lawbook Co., AUSTRALIA

Enquiry Sent

A member of our support team will be in touch with you within 1 business day.

Sales Enquiry Form

Northern Territory Law Reports Bound Volumes Only

For questions about how to use this product or to get help with your account please visit the Help Centre or Contact Support directly.
Description
This series represents the authorised reports of the Northern Territory Supreme Court published on behalf of Northern Territory Council of Law Reporting. Each reported judgment includes a comprehensive headnote, written by an expert reporter, and approved by the Court.

The Northern Territory Law Journal features topical articles on legal developments and issues of interest to practitioners and researchers both within the Northern Territory and in other Australian jurisdictions.

The Reports and Journal are now available online and feature a full archive from volume 1 of both the Reports and Journal, PDF print versions of every reported case and integration with FirstPoint (with separate subscription).
*
Price is for an annual subscription and includes all Bound Volumes and Consolidated Indexes issued during this period. Does not include loose Parts or Backset. The Backset is available separately at an additional price. Subscriptions are also available on a charge per volume basis – please contact Thomson Reuters for further details.