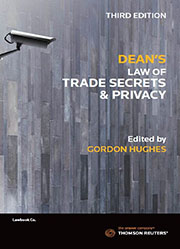 Dean's Law of Trade Secrets and Privacy 3rd Edition - Book
Book

Date: 29/08/2018

Code: 9780455500775

Lawbook Co., AUSTRALIA

Dean's Law of Trade Secrets and Privacy 3rd Edition - Book
Description
Dean's Law of Trade Secrets and Privacy Third Edition provides essential guidance through the law regarding personal, institutional and corporate privacy. This long-awaited new edition assists readers to better protect commercially-sensitive and private, personal information by understanding the principles of two related and changing areas of law.
Protection of trade secrets is essential to business development. Similarly, protection of personal information is subject to increasingly complex privacy regulation. This work addresses the obligations in both areas, and the overlap.
Evolving technology creates risk for businesses and individuals, yet regulation may trail behind developments. A practitioner or company with a clear grasp of relevant legal principles and practice is better equipped to develop strategies for safeguarding against breaches of confidence.
Since the Second Edition published in 2002, the challenges to personal, institutional and corporate privacy have proliferated. Compliance with confidentiality laws is now complicated by jurisdictional issues arising from the use of modern communication technology, including social media. In addition, fiduciary relationships add another level of complexity.
Privacy legislation continues to evolve and it is necessary for practitioners to be familiar with Commonwealth, State and Territory privacy and health records regulation. The Privacy Act has been recently amended and more change is anticipated.
At the same time, statutory protection is further complicated by the possible emergence of a common law right to privacy. Practitioners must move quickly in response to these developments and to anticipate how the courts will interpret them.
Dean's Law of Trade Secrets and Privacy Third Edition is preceeded by the First Edition (1990) and Second Edition (2002), by Robert Dean. Following the publication of the subscription service Trade Secrets and Privacy in 2012, it is extracted from that work and maintained by privacy and data protection specialist lawyer, Gordon Hughes.
It is an essential and affordable resource for every company, institution and individual with privacy concerns.
Table of Contents
PART 1 – TRADE SECRETS
Chapter 1 – Introduction
Chapter 2 – Jurisdiction
Chapter 3 – Breach of Confidence
Chapter 4 – Fiduciary Relationships
Chapter 5 – Economic Torts & Secret Information
Chapter 6 – Employee Inventions
Chapter 7 – Obligations of Third Parties
Chapter 8 – Defence of Public Interest
Chapter 9 – Remedies
Chapter 10 – Restraint of Trade Covenants & Protection of Goodwill
PART 2 - PRIVACY
Chapter 11 – Privacy
Chapter 12 – Australian and International Privacy
Chapter 13 – Overview of Data Protection
Chapter 14 – Existing Data Protection Laws
Chapter 15 – Australia's New Privacy Laws