Here you will find links to useful websites, lists of the major legislation and where to find it, and other tools to assist you in developing your understanding of Australian corporations law. Resources are listed under each of the main Thomson Reuters corporations law texts.
Following is a list of websites which are invaluable for studying and understanding corporations law. The General Corporations Law Website List contains links to websites relevant to each of the topics covered in Corporations Law: In Principle, 9th Edition and a topic-by-topic list of other relevant websites is below. Where no websites are listed, refer to the General List.
Topic 1 History, Administration and Reform Topic 2 Types of Companies Topic 3 Registration Topic 4 Consequences of Registration Topic 5 Internal Rules Topic 6 Management of Companies Topic 7 Corporate Liability: Contract, Tort and Crime Topic 8 Promoters and Pre-registration Contracts Topic 9 Membership
Topic 10 Meetings Topic 11 Directors' Duties - Part 1 Duty of Care, Skill and Diligence Topic 12 Directors' Duties - Part 2 Good Faith and Proper Purpose Topic 13 Directors' Duties - Part 3 Conflict of Interest and Disclosure Topic 14 Members' Rights and Remedies Topic 15 Financial Reports and Audit Topic 16 Share Capital - General Nature Topic 17 Classes of Shares Topic 18 Transactions Affecting Share Capital Topic 19 Dividends
Topic 20 Loan Capital Topic 21 Fundraising Topic 22 Financial Services, Products and Markets Topic 23 Takeovers Topic 24 External Administration Topic 25 Partnerships and Incorporated Associations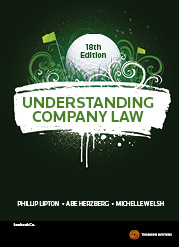 Phillip Lipton and Abe Herzberg have developed a companion website to Understanding Company Law which contains links to relevant legislation, discussion papers and recent developments, links to websites, as well as a section on exam and study tips. Visit www.lipton-herzberg.com.au
Corporations Legislation 2015 consolidates the Corporations Act and Regulations and provides key section annotations.
The major sources of corporations legislation are:
Corporations Act 2001 (Cth)
Corporations Regulations 2001 (Cth)
Visit the Commonwealth Parliament website at
www.comlaw.gov.au
to access the corporations legislation online.