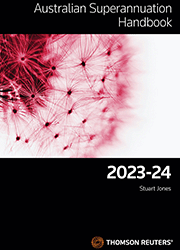 Australian Superannuation Handbook 2023-24
Book

$183.60* $216.00 RRP Save: $32.40 (15%)

Date: 10/08/2023

Code: 9780864600691

Thomson Reuters, AUSTRALIA

Australian Superannuation Handbook 2023-24

Sale Price:

$183.60

Saving: $32.40
Description
Australian Superannuation Handbook 2023-24
Despite ongoing reforms, superannuation remains a tax effective investment structure to achieve wealth creation and retirement objectives.
To guide clients through the maze of tax, superannuation and social security provisions, accountants and other professional advisers need a working knowledge of the latest changes.
Current to 1 July 2023, the Australian Superannuation Handbook 2023-24 is an essential companion for tax practitioners to help comply with the latest superannuation regulatory requirements.
What's New in the Australian Superannuation Handbook 2023-24
The pension transfer balance cap for 2023-24 has increased to $1.9m
The SGC rate increased to 11% with effect from 1 July 2023
The age at which a downsizer contribution can be made has been reduced to 55
Quarterly reporting of TBAR events applies to all SMSFs from 1 July 2023
RSE licensees are required to lodge annual reports with ASIC
Commentary on employee v contractor has been rewritten the High Court decisions in CFMMEU and Jamsek
Amendments to NALI provisions
Table of Contents
• Overview
• Superannuation funds
• Self-managed superannuation funds (SMSFs)
• MySuper
• Trusts and trustees
• Taxation of superannuation
• Contributions
• Superannuation guarantee
• Choice of fund
• SIS prudential standards
• Investment rules
• Taxation of Funds
• Member benefits
• Payment of benefits
• Taxation of benefits
• Pensions and annuities
• Death and superannuation
• Family law and superannuation
• Employment termination payments
• Other termination-related payments
• Regulation of superannuation
• Financial Services Regulation – licensing
• Financial Services Regulation - disclosure
• Future of Financial Advice (FoFA)
• Complaints and dispute resolution
• Pending developments
• Rates and tables
• Index and reference aids
• Legislation Table
• Tax Office, APRA and ASIC materials