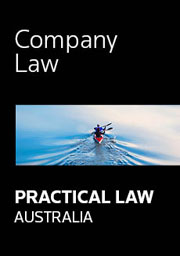 Practical Law Australia - Company Law
Online

Date:

Code: 41947705

PRACTICAL LAW - AU, AUSTRALIA

Enquiry Sent

A member of our support team will be in touch with you within 1 business day.

Enquiry Form

Practical Law Australia - Company Law
Description
Practical Law delivers practical legal knowledge and resources to more than 130,000 lawyers from 8,000 firms and in-house legal departments across the globe. We provide legal know-how to the best law firms and companies in the UK, US and beyond.
Practical Law Australia - Company Law provides up-to-date and practical guidance on the core elements of company law, including practical aspects of the formation, structure and business operations of proprietary, public and other types of companies.
Topics covered include company formation, constitutions, share capital, shareholders' agreements, company administration and meetings, dividends, trusts, execution formalities, company officers, directors duties and corporate governance.
Practice notes provide assistance with understanding these core requirements under the Corporations Act 2001 (Cth) and how to apply the law in practice. Standard documents and clauses provide a basis for completing documentation efficiently, including examples of board minutes, transfer forms, share certificates, consent forms, constitutions and member registers.
Visit Practical Law Australia for more information.