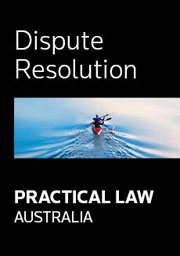 Practical Law Australia - Dispute Resolution
Online

Date:

Code: 42071892

PRACTICAL LAW - AU, AUSTRALIA

Enquiry Sent

A member of our support team will be in touch with you within 1 business day.

Enquiry Form

Practical Law Australia - Dispute Resolution
Description
Practical Law Australia - Dispute Resolution covers all aspects of litigation both in the Federal Court and State and Territory Courts.
Our expertly drafted practice notes, standard documents, and checklists take practitioners through all stages of litigation, from pre-litigation strategy to appeal and enforcement of judgments. Extensive practical coverage is given to Evidence, Relief, Costs, Disclosure, and Case Management, as well as Alternative Dispute Resolution.
Visit Practical Law Australia for more information.