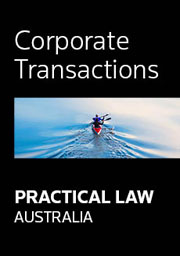 Practical Law Australia - Corporate Transactions
Online

Date:

Code: 41947704

PRACTICAL LAW - AU, AUSTRALIA

Enquiry Sent

A member of our support team will be in touch with you within 1 business day.

Enquiry Form

Practical Law Australia - Corporate Transactions
Description
Practical Law delivers practical legal knowledge and resources to more than 130,000 lawyers from 8,000 firms and in-house legal departments across the globe. We provide legal know-how to the best law firms and companies in the UK, US and beyond.
The Practical Law Australia - Corporate Transactions module provides up-to-date and practical guidance on corporate transactions. This module covers a range of transactions that companies commonly undertake as part of their business operations. It includes share acquisitions, asset acquisitions, joint venture arrangements, takeovers, reductions of share capital and corporate group reorganisations.
Practice notes provide lawyers with practical know-how on carrying out corporate transactions in accordance with the Corporations Act 2001 (Cth), including guidance on the appropriate processes to follow and the key legal issues that commonly arise for the particular type of transaction.
Standard documents give lawyers an up to date example for negotiating the necessary transaction documents required to implement transactions, including drafting notes for particular clauses that describe common issues and negotiation positions.
This practice area also includes broader ancillary documents required to implement transactions, such as board minutes, transfer forms, notices of general meeting, proxy forms and confidentiality agreements.
Visit Practical Law Australia for more information.