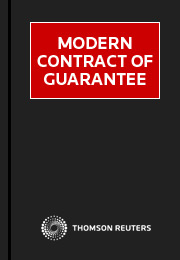 Modern Contract of Guarantee
Looseleaf

Date: 10/09/2012

Code: 30127599

Lawbook Co., AUSTRALIA

Enquiry Sent

A member of our support team will be in touch with you within 1 business day.

Enquiry Form

Modern Contract of Guarantee
Description
A practical guide to a key event in modern commercial practice, Modern Contract of Guarantee covers all aspects of the contract of guarantee, from formation to discharge of liability, and addressing the rights of the parties in detail. Major chapters are Formation and Validity, Liability and Discharge, The Rights of the Parties, and Guarantees in Particular Contexts.

Keeping pace with ongoing developments via regular updates, the service:
Examines the meaning of clauses commonly inserted in guarantees
Discusses factors affecting the validity of the guarantee, such as duress and undue influence
Gives guidance on drafting contracts of guarantee
Looks at special principles applicable to guarantees which will lead to the guarantee being discharged
Advises on how the lender can guard against discharge of a guarantee
Considers problems the lender may have enforcing the guarantee
Looks at the rights of guarantors both before and after payment
Includes a special "checklist for defending guarantors" which cross-references the more discursive analysis in the main text.
* Subscription price includes 12 months of updating releases. Further updates invoiced separately.