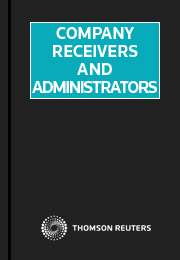 Company Receivers & Administrators eSubscription
eSub - ProView

Date: 01/03/2014

Code: 41637999

Thomson Reuters, AUSTRALIA

Enquiry Sent

A member of our support team will be in touch with you within 1 business day.

Enquiry Form

Company Receivers & Administrators eSubscription
Description
Company Receivers and Administrators is the essential reference tool for insolvency practitioners, their appointors and their advisers. It provides a thorough analysis of case law and legislation on private and court appointments and discussion of voluntary administration and deeds of company arrangement under Part 5.3A of the Corporations Act. The volatility of case law is well-established with this service.

Meticulously researched, it provides a practical insight into company receivership and insolvency practice and is the only service exclusively covering company receivership, deeds of company arrangement and voluntary administration with sets of precedents on Company Receivers, Companies under administration and Deeds of Company Arrangement and an appendix on the impact of the Personal Property Securities legislation on chargees and their receivers.
As time is at a premium for busy litigators and lawyers who practice in insolvency law, commercial law, property law and banking and finance, it is imperative to keep up-to-date with the latest developments,
Further developments to the online service has been the introduction of a "Breaking News" feature, which publishes current news including topical discussion papers, up-to-date information on Bills before Parliament and relevant media releases.