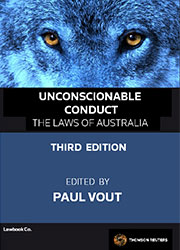 Unconscionable Conduct Third Edition - The Laws of Australia Book & eBook
Book+eBook

Date: 30/11/2017

Code: 41994609

Lawbook Co., AUSTRALIA

Unconscionable Conduct Third Edition - The Laws of Australia Book & eBook
Description
Unconscionable Conduct – The Laws of Australia (3rd Edition) provides in-depth commentary and analysis on the latest judicial consideration and developments in the areas of estoppel, duress, undue influence, misrepresentation, unconscionability, unconscionable dealing and the principles of equitable mistake.
This new edition considers recent case law affecting several critical developments, including:
revisiting the doctrine of estoppel (Sidhu v Van Dyke, Crown Melbourne Ltd v Cosmopolitan Hotel (Vic) Pty Ltd and Miller Heiman Pty Ltd v Sales Principles Pty Ltd);
the relationships giving rise to presumed undue influence (Mahoney v Mahoney [2015] VSC 600); and
the actionability of duress applied by a third party to a contract (Dunwoodie v Teachers Mutual Bank Ltd).
This work offers a comprehensive examination of unconscionability, bargaining power and detriment under the operation of the Australian Consumer Law in relation to contracts. Now, this Third Edition, includes a new section (35.10) with extended focus on decisions specifically dealing with relief against penalties and forfeiture, and the circumstances in which the remedy applies, referencing landmark decisions in Paciocco v Australia & New Zealand Banking Group Ltd, Kakavas v Crown Melbourne Ltd, and Andrews v Australia and New Zealand Banking Group Ltd.
This material is also published as part of Titles 7 "Contract: General Principles" and 35 "Unfair Dealing" of The Laws of Australia legal encyclopaedia. This book has been developed under the editorial guidance of Dr Paul Vout, member of the Victorian Bar, co-editor of the Commonwealth Law Reports, and Solicitor of the Supreme Courts of New South Wales, Northern Ireland, England and Wales.
*
eBooks and packages including an eBook may not be returned once the software key has been supplied. Your rights as a customer to access and use the ProView™ software and a ProView eBook are subject to acceptance of the ProView content licence agreement.
NB
An email with a registration key and instructions for accessing your eBook will be sent after checkout. For existing ProView users the eBook will appear in your library after checkout.

Forthcoming/pre-order eBooks will be available after the publication date.

The ProView app is not currently available on Kindle. See the latest system requirements