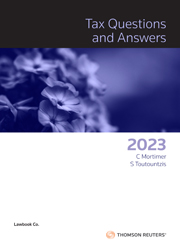 Tax Questions and Answers 2023
Book

$114.40* $143.00 RRP Save: $28.60 (20%)

Date: 18/01/2023

Code: 9780455246918

Lawbook Co., AUSTRALIA

Tax Questions and Answers 2023

Sale Price:

$114.40

Saving: $28.60
Description
Updated annually, Tax Questions and Answers 2023 presents over 500 questions across the breadth of topics covered in undergraduate taxation. Used throughout the course of study it will assist in evaluating progress and identifying areas to focus on; as an exam revision tool, it can strengthen memory and real understanding.
Fully revised and updated Tax Questions and Answers 2023 reflects the chapter headings in Principles of Taxation Law 2023 making it the ideal companion volume as well as a stand alone text.
By providing the opportunity to reflect on the issues independently, yet with the assurance of a model answer to rely upon, this text is a most effective means to advance the reader's knowledge of taxation law.
Table of Contents
1. Sources of taxation law
2. Study skills for taxation law
3. The taxation formula
4. Residence and source
5. Assessable income
6. Income from personal services and employment
7. Fringe benefits tax
8. Income from business
9. Income from property
10. Principles of compensation
11. Capital gains tax
12. Deductions
13. Specific deductions
14. Capital allowances and repairs
15. Rebates and rate of tax
16. Tax accounting
17. Trading stock
18. Superannuation funds and retirement payments
19. Partnerships
20. Trusts
21. Companies
22. International taxation
23. Tax planning and anti-avoidance
24. Tax administration
25. Goods and services tax (GST)
26. State taxes and goods and services tax
27. Special classes of taxpayers