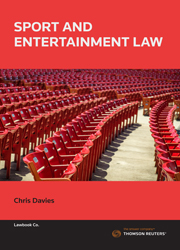 Sport and Entertainment Law First Edition
Book

New Release, 06/09/2021

Code: 9780455245690

Lawbook Co., AUSTRALIA

Sport and Entertainment Law First Edition
Description
Sport and Entertainment Law provides a clear and concise account of the law relating to sport and entertainment. It provides background material to explain what actually is sport and entertainment, how the law works, governance and tribunals. An overview of the relevant core areas of law, such as contract, torts and competition law, is provided in the respective chapter, along with a discussion as to how that law applies to sport and entertainment. Each chapter contains the relevant legislation for each jurisdiction. While the emphasis is on Australian cases, overseas cases are also included when appropriate.
Some questions to consider are provided at the end of each chapter, along with a list of journal articles which provide further reading on the material covered in that chapter.
The Author
Dr Chris Davies B Sc BA LLB James Cook University; PhD Sydney University; Associate Professor, College of Business, Law and Governance, James Cook University.
Table of Contents
1. Introduction
2. What is Sport and Entertainment Law?
3. How the Law Works
4. The Governance of Sport and Entertainment
5. Sporting Tribunals
6. Contract Law
7. The Business of Sport and Entertainment
8. Intellectual Property and Censorship
9. Sponsorship and Marketing
10. Tortious Liability: Specific Torts
11. Tortious Liability: Negligence
12. Criminal Liability
13. Doping
14. Discrimination
15. Evidence