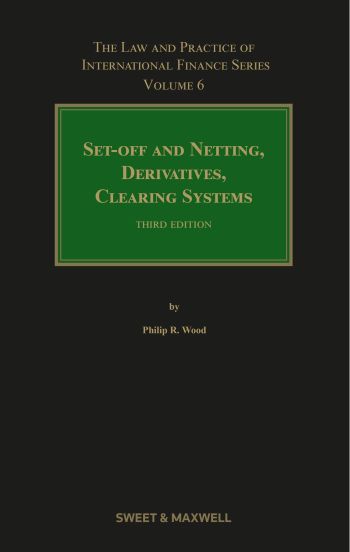 Set-offs and Netting, Derivatives and Clearing Systems 3rd ed
Book

Date: 01/07/2019

Code: 9780414044746

Sweet & Maxwell, UNITED KINGDOM

Set-offs and Netting, Derivatives and Clearing Systems 3rd ed
Description
The Law and Practice of International Finance series is your definitive guide to international finance. It considers the full range of topics across nine volumes, setting out the law and practice of trading assets on the international markets. This essential work, by one of the leading finance specialists of a generation, provides a simple, unified and distilled account of the whole topic.
This book covers the essential principles of set-off, netting, derivatives and clearing systems from a practical perspective, providing the reader with an in-depth explanation of the core concepts of these interrelated processes, products and systems.
Table of Contents
Part 2: Set-off and Netting
2.

Principles of Set-off and Netting

3.

Insolvency Set-off and Netting

4.

Set-off between Solvent Parties

5.

Set-off and Netting Mutuality

6.

Set-off Against Interveners: assignees, attaching creditors, undisclosed principals and others

7.

Conflict of Laws for Set-off and Netting

8.

Special Netting Statutes

9.

World Summary of Set-off and Netting

10.

Outlines of Set-off and Netting Agreements
11.

Derivatives Transactions

13.

ISDA Form and the Documentation of Derivatives

14.

Regulation, Misselling and other Risks
Part 4: Payment and Securities Clearing Systems
15.

Structure and Operation of Payment Systems

16.

Insolvency Risks and Time of Payment

17.

Bank Liabilities in Payment Systems

18.

Payment Systems and Conflict of Laws

19.

Settlement Systems for Securities

20.

EU Directives on Clearing Systems and ...