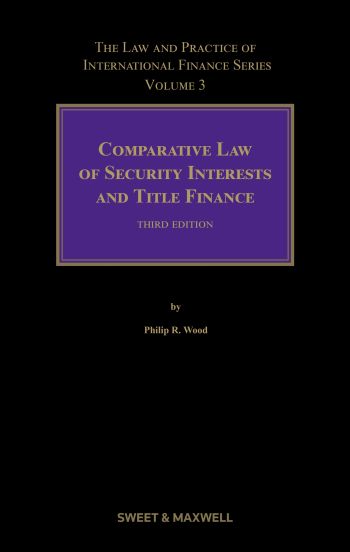 Security Interests and Title Finance: Jurisdictional Comparisons 1st Edition
Book

$551.65* $649.00 RRP Save: $97.35 (15%)

Date: 25/06/2019

Code: 9780414071490

Sweet & Maxwell, UNITED KINGDOM

Security Interests and Title Finance: Jurisdictional Comparisons 1st Edition

Sale Price:

$551.65

Saving: $97.35
Description
The Law and Practice of International Finance series is your definitive guide to international finance. It considers the full range of topics across nine volumes, setting out the law and practice of trading assets on the international markets. This essential work, by one of the leading finance specialists of a generation, provides a simple, unified and distilled account of the whole topic.
This book provides a comparative overview of over 300 jurisdictions. It sits beside volume 3 of the series, which covers the essential principles of the law governing security interests and title finance, from a practical perspective. Together the two books provide the reader with a complete in-depth explanation of the regulation of security interests and title finance.
Philip Wood is one of the leading authorities on international finance worldwide, as well as a practitioner and teacher. He was a partner in international law firm Allen & Overy until his retirement in 2018, and for ten years was head of the banking department. Subsequently he led the firm's Global Law Intelligence Unit. Philip is the Yorke Distinguished Visiting Fellow at the University of Cambridge, and has previously been Visiting Professor in International Financial Law at the University of Oxford, Queen Mary University of London, and the London School of Economics. He has lectured at more than 60 universities worldwide and has written more than 20 books.
Features:
Advanced study of the law concerning security interests and title finance in the major jurisdictions of the world.
Compares the legal regime in over 300 jurisdictions.
Provides useful summaries diluting and condensing the law so that the main points can be grasped quickly
Details the domestic law concerning:

Scope of security
Perfection
Financial Collateral
Registeration of security
Secured Debt
Security packages
Marketable securities
Transfers
Subordination
Ladder of priorities
Guarantees
Costs and Taxes
Formalities
Table of Contents
Part 1: General
Security Interests and World Financial Law
Understanding English and American Security Interests
Rationale and Meaning of Security Interests
Classification of Main Sectors of Secured Finance
Classification of Assets
Classification of jurisdictions of the World
English common law jurisdictions
General review of the Napoleonic group
Roman-Germanic jurisdictions group
Other Jurisdiction
Part 2: Legal Topics
13

Parties: Debtors, Creditors and Trustees

14

Formalities, Costs and Taxes

15

Scope Of Security Interests and Universal Charges

16

Creation of Security Interests

17

Derivative assets, accessories and proceeds

18

Inalienable Assets; Negative Pledges

19

Publication (Perfection) of Security Interests: Principles

20

Perfection Under UCC Article 9

21

Perfection In English-Based Jurisdictions

23

Transfers of Secured Debt

24

Priorities: Policies Classification

25

Priority over Unsecured Creditors: the Ladder

26

Summary of Priority Rules: Owners, Buyers, Other Secured Creditors

27

Priorities: Asset Title Registers

28

Filing Registers Indexed by Debtor

29

Priorities: Particular Contests

30

Subordinated Secured Debt

31

Avoidance of Security Interests as a Preference

32

Financial Assistance to Buy Own Shares

33

Enforcement of Security Interests

34

Enforcement on Insolvency
Part 3: Practice and Documents
35 Security Packages

37

Security Interests over Goods

39

Contracts, Debts and Charge-backs

40

Security Interests over Investments

41

Security Interests over Insurances

42

Security Interests over Intellectual Property

44

Legal Opinion on Security Interests

45

Terms of Security Agreements I: Creation and Perfection

46

Security Agreements II: Secured debt; trustees; third party security

47

Security Agreements III: Representations; covenants

48

Security Agreements IV: Events of Default; Enforcement; Close
Part 4: Title Finance
49 Title Finance: General Principles

50

Title Finance: Finance Leases

52

EU Financial Collateral Directive 2002

53

Geneva Aircraft Convention of 1948

54

Cape Town Mobile Equipment Convention (Aircraft) 2001

55

Other International Instruments

56

Conflict of Laws I: Classification of Issues

57

Conflicts II: Contractual Aspects of Security Agreements