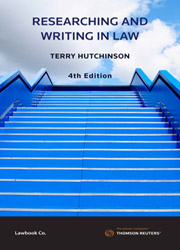 Researching and Writing in Law 4e bk + ebk
Book+eBook

Date: 23/04/2018

Code: 41936999

Lawbook Co., AUSTRALIA

Researching and Writing in Law 4e bk + ebk
Description
Having the ability to produce independent research is crucially important at the postgraduate level. Producing a quality research paper requires advanced skills in conceptualising the project, identifying a pertinent methodology, project planning, analysis and synthesis of ideas from the literature, together with good writing skills. This 4th edition outlines the 12 main steps in this process. These steps constitute a guide for those students embarking on higher degree research. There are more extensive segments on research ethics, including plagiarism and originality, the importance of developing skills in critique, project management, literature reviews, and reading skills.The material in each chapter is designed to assist you to complete a quality project.
Researching and Writing in Law, 4th edition includes an updated legal research guide. It maps the developments that have occurred, and provides keys to the fundamental electronic sources of legal research, as well as exploring traditional doctrinal methodologies. Included in this edition are extensive checklists for locating and validating the law in Australia, England, Canada, the United States, and New Zealand. Legal research in the twenty first century is more likely to be interdisciplinary and multi-jurisdictional. The inclusion of research checklists for several international jurisdictions, such as the European Union China and India, serves to acknowledge our reliance on broader international and comparative perspectives in pursuing research in the current century.
Law students and members of the practising profession aiming to update their research, knowledge and skills will find Researching and Writing in Law, 4th edition invaluable.
Table of Contents
Part I Formulating and Writing Your Legal Research Project
1. Setting the Scene: Research and Writin in Context
2. Research Ethics and Project Management
3. Standard Doctrinal Research Methodologies
4. Additional Legal Research Frameworks
5. Basic Electronic Research Techniques
6. Social Science Methodologies for Lawyers
7. Formulating a Research Topic
8. Refining the Topic and Writing the Research Proposal
9. Reviewing the Literature: Reading and Critique
10. Legal Writing
Part II Checklists for Locating and Validating the Law
Checklist 1 - General: How do you find
Checklist 2 - Australia
Checklist 3 - Australian Capital Territory
Checklist 4 - New South Wales
Checklist 5 - Northern Territory
Checklist 6 - Queensland
Checklist 7 - South Australia
Checklist 8 - Tasmania
Checklist 9 - Victoria
Checklist 10 - Western Australia
Checklist 11 - United Kingdom
Checklist 12 - Canada
Checklist 13 - United States
Checklist 14 - European Union
Checklist 15 - New Zealand
Checklist 16 - India
Checklist 17 - China
*
eBooks and packages including an eBook may not be returned once the software key has been supplied. Your rights as a customer to access and use the ProView™ software and a ProView eBook are subject to acceptance of the ProView content licence agreement.
NB
An email with a registration key and instructions for accessing your eBook will be sent after checkout. For existing ProView users the eBook will appear in your library after checkout.

Forthcoming/pre-order eBooks will be available after the publication date.

The ProView app is not currently available on Kindle. See the latest system requirements