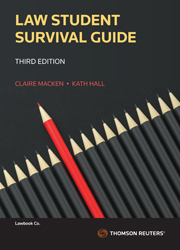 Law Student Survival Guide Third Edition - Book
Book

New Release, 18/01/2022

Code: 9780455246000

Lawbook Co., AUSTRALIA

Law Student Survival Guide Third Edition - Book
Description
Welcome to the Law Student Survival Guide! Now in its second edition, author Claire Macken draws on her experience as both a student and lecturer in law to provide practical study skills suggestions for university law students. Inside you'll find a variety of hints, tips and checklists, in an easy-to-read style, which will assist you to:
'Set yourself up' for law study success and familiarise yourself with the law resources you need to learn the law
Master the skill of a weekly schedule and prioritised plan to give yourself sufficient time to study and learn the law
Implement techniques to create an organised, uncluttered and enjoyable place to learn
Learn the 50/10 Plan as a technique to avoid distractions and achieve your best in your planned study times
Understand the process of summarising, and the skill of writing summary notes for the purpose of your law assessments
Improve and enhance your law exam technique and the application of 'IRAC' as the basis of legal reasoning
Apply the skills of legal research and writing to achieve your best in all written law assessments
Consider the wonderful opportunities open to you as a law student to enrich your educational experience and meet new friends and colleagues along the way!

Table of Contents
Step One: Check your desk!
Step Two: Set yourself up for study
Step Three: Write a Weekly Schedule
Step Four: Study Techniques
Step Five: Study Notes and exam notes
Step Six: How to do a law exam
Step Seven: Researching and writing
Step Eight: Avoid procrastination! Never give up!
Step Nine: All the other things you need to know