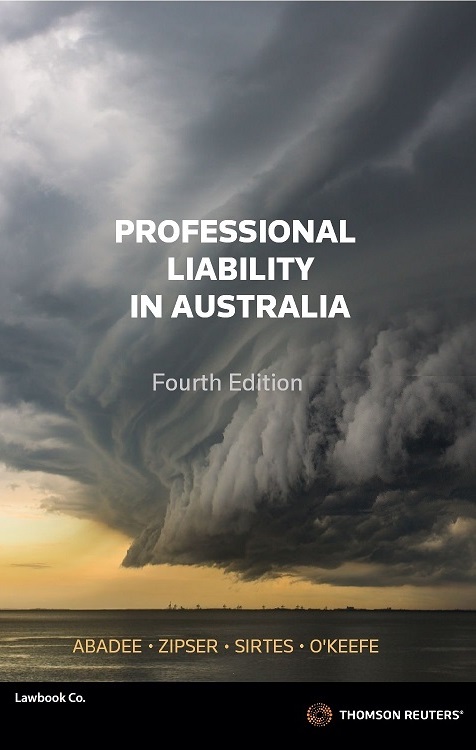 Professional Liability in Australia 4e - eBook
eBook - ProView

$218.40* $273.00* RRP Save: $54.60 (20%)

Date: 20/12/2022

Code: 9780455502656

Lawbook Co., AUSTRALIA

Professional Liability in Australia 4e - eBook

Sale Price:

$218.40

Saving: $54.60
Description
Professional Liability in Australia Fourth Edition provides a comprehensive and definitive analysis of the law of professional liability, bringing together the law for a range of different professions.
Following a discussion of general principles, each chapter explores the issues as they relate to doctors, solicitors, barristers, accountants and auditors, building professionals, valuers and financial services professionals.
The issues essential to each profession are discussed, such as:
duties owed to clients and third parties (in statute and in general law);
standard of care and skill required;
principles of liability;
liability for breach of duty;
defences available; and
damages and other remedies.
New developments incorporated in the Fourth Edition include:
High Court decisions relating to:

the advocate's immunity from suit;
the standard of care required of health professionals;
the scope of duty, causation, loss of chance and the provisions of the Civil Liability Act 2002 (Tas) with implications in all States and Territories; and
provisions of the Australian Consumer Law relevant to professional liability.

More than 100 lower court decisions concerning claims against legal, medical, accounting, financial, building, and valuation professionals, including appellate court decisions forming Australia-wide precedents, and matters relating to civil liability legislation in each jurisdiction.
Consideration of the Design and Building Practitioners Act 2020 (NSW) and the statutory obligations it places on building professionals.
Matters arising from the Royal Commission into Misconduct in the Banking, Superannuation and Financial Services Industry, relevant to financial services professionals.
Professional Liability in Australia Fourth Edition is an essential resource when prosecuting or defending professional liability claims.
Table of Contents
General Principles
Doctors & Health Professionals
Solicitors
Barristers
Accountants and Auditors
Building Professionals
Valuers
Financial Services Professionals
*
eBooks and packages including an eBook may not be returned once the software key has been supplied. Your rights as a customer to access and use the ProView™ software and a ProView eBook are subject to acceptance of the ProView content licence agreement.
NB
An email with a registration key and instructions for accessing your eBook will be sent after checkout. For existing ProView users the eBook will appear in your library after checkout.

Forthcoming/pre-order eBooks will be available after the publication date.

The ProView app is not currently available on Kindle. See the latest system requirements