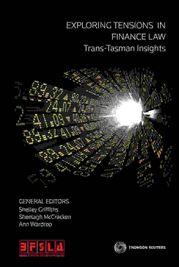 Pack-Exploring Tensions in Finance Law: Trans -Tasman Insights Book + eBook
Book+eBook

Date:

Code: 41697042

Brookers, NEW ZEALAND

Pack-Exploring Tensions in Finance Law: Trans -Tasman Insights Book + eBook
Description
Written by members of the of the Academic Committee of the Banking and Financial Services Law Association, this work explores and offers practical perspectives on current tensions throughout the finance sector in Australia and New Zealand. It identifies and addresses common issues in banking and financial services law highlighted by the global financial crisis, offering analysis and assessment of case law and legislation, and guidance towards managing resolution. While the substantive legal principles discussed in Exploring Tensions in Finance Law are for the most part those that have developed in the trans-Tasman jurisdictions, the insights that the essays offer are of broad general interest, especially to legal practitioners, banks and financial institutions.
CONTENTS
1. Exploring tensions in finance law – Shelley Griffiths, Sheelagh McCracken and Ann Wardrop
PART 1
2. Clear, concise and effective – the evolution of product disclosure documents – Andrew Godwin and Paul Rogerson
3. Civil liability of credit rating agencies to investors – Ann Wardrop
4. Financial advice reforms: striking the right balance – Gill North
5. Should voluntary administration remain a one-size-fits-all procedure? – Jason Harris
6. Reforming the commercial trust: trans-Tasman approaches – Nuncio D'Angelo and Helen Dervan
7. Asset preservation orders in securities regulation litigation – Shelley Griffiths
PART 2
8. When is a buyer, a buyer? Solving riddles when new legislation confronts established concepts – Sheelagh McCracken
9. PPSA Aus: security interests and notices under sections 260–265 of the Taxation Administration Act 1953 (Cth) – John Stumbles
10. The sections 128 and 129 assumptions (and their New Zealand equivalent), Barnes v Addy constructive trusts and statutory accessory liability – Diccon Loxton
11. Options for the dunning creditor under the Statute of Elizabeth – Lee Aitken
12. Equity's voice in restructuring – David Brown
*
eBooks and packages including an eBook may not be returned once the software key has been supplied. Your rights as a customer to access and use the ProView™ software and a ProView eBook are subject to acceptance of the ProView content licence agreement.
NB
An email with a registration key and instructions for accessing your eBook will be sent after checkout. For existing ProView users the eBook will appear in your library after checkout.

Forthcoming/pre-order eBooks will be available after the publication date.

The ProView app is not currently available on Kindle. See the latest system requirements