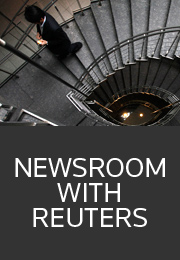 Newsroom with Reuters on Westlaw International
Online

Date: 23/06/2011

Code: 30115605

Thomson Reuters, USA

Enquiry Sent

A member of our support team will be in touch with you within 1 business day.

Sales Enquiry Form

Newsroom with Reuters on Westlaw International

For questions about how to use this product or to get help with your account please visit the Help Centre or Contact Support directly.
Description
Whether you're researching companies, governments, politics, international or domestic markets, or economics, NewsRoom with Reuters provides the content and tools you need.

It combines thousands of key newspapers, newswires and business-to-business publications, all presented within Westlaw International. This provides a suite of powerful search tools and functionality, including sophisticated deduplication and options for receiving automated updates. NewsRoom offers global news, encompassing business, financial, economic, political and industry content. All regions of the world are covered, including important emerging markets.

To further enhance the NewsRoom coverage, this service now incorporates the renowned Reuters services for unparalleled coverage of business and political news around the world. Reuters is a trusted source used by more than 1,000 key newspapers and publishers, and 450 of the world's largest news broadcasters. Each year, Reuters is first to report on hundreds of key breakingstories across the globe.

From a single search point, the NewsRoom with Reuters collection provides comprehensive news gathered from thousands of publications around the world, including:
• Major national and international newspapers
• Newswires
• Business and industry publications
• Industry newsletters
• Blogs

Maybe you still like to get ink on your fingers, reading a local or national paper with your morning coffee. But when you need to do serious news research for any purpose, turn to Westlaw International:

Current awareness
Your awareness of current news developments is integral to your work – people depend on you to be in the know

Identifying potential clients and pitching business
Tap a gold mine of information about people, companies and industries

Advising current clients
Alert current clients to opportunity windows, pitfalls to avoid, and competitive developments

For litigation
Evaluate parties and opponents. Make it easier to find and contact parties, see previous interactions with the law or evaluate public statements

Track the competition
What are your competitors doing/saying that may impact your ability to attract and retain clients

Identifying trends that may become legal issues
Monitor right to privacy, corporate scandals and governance litigation, impacts of the global economy, or M&A activity

Fact-finding for litigation
Find out who said what to whom? Did they say it publicly? Who did what to whom? What is the general state of medical or technical knowledge

Globalisation
NewsRoom includes worldwide news and information from more than 7,000 current international publications and newswires to help keep you current with happenings around the globe. It also has archival content for over 8,000 additonal sources.