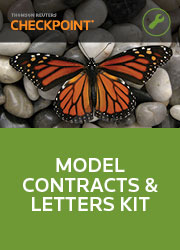 Model Contracts and Letters Kit
Online

Date: 01/05/2013

Code: 41412971

Thomson Reuters, AUSTRALIA

Enquiry Sent

A member of our support team will be in touch with you within 1 business day.

Sales Enquiry Form

Model Contracts and Letters Kit

For questions about how to use this product or to get help with your account please visit the Help Centre or Contact Support directly.
Description
Model Contracts and Letters Kit provides the tools needed to help you more easily meet your clients' and your own compliance obligations. Authored and formulated by commercial law experts Rigby Cooke Lawyers and accounting specialists ShineWing Australia, this service gives you a suite of flexible documents that can be used as they are or customised to suit your needs.
Published online and on the portable format of CD, the Kit includes practical business agreements, precedents, standard letters, checklists, calculators and general forms so that practice firms and general businesses can streamline their administrative workflow. Each tool a complete template, this toolkit operates as a key time-saving resource for subscribers' business.
Features
An extensive range of approximately 50 draft model agreements and contracts covering key situations that could impact on you or your clients' business.
A suite of approximately 170 standard letter templates that help you correspond effectively with clients on compliance obligations.
Checklists that help you cover key requirements for individual tax return, company tax return and FBT return preparation.
Calculators for motor vehicle claims, FBT on motor vehicle claims, CGT comparative claims and individual tax.