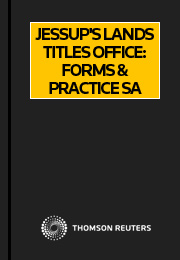 Jessup's Lands Titles Office: Forms & Practice SA
Looseleaf

Date: 11/09/2012

Code: 30143487

Lawbook Co., AUSTRALIA

Enquiry Sent

A member of our support team will be in touch with you within 1 business day.

Sales Enquiry Form

Jessup's Lands Titles Office: Forms & Practice SA

For questions about how to use this product or to get help with your account please visit the Help Centre or Contact Support directly.
Description
Jessup's Lands Titles Office Forms and Practice is a valuable guide to the practice and policies of the South Australian Land Titles Office. It is a useful guide to the preparation of all commonly-encountered conveyancing instruments and the official registration requirements demanded by the Registrar-General. This is the only publication of its kind in South Australia.
This service is a clear, concise and quick reference for legal practitioners, registered conveyancers, financiers, local government authorities or any person having constant dealings with the Lands Titles Office. It is designed to help save subscribers time and costs by preventing unnecessary requisitioning of instruments prior to registration.
Jessup includes legislation, forms and cases relating to the vesting, ownership, use and management of land in South Australia. Up-to-date commentary and case law annotations are featured throughout the service to highlight developments. Subject areas are arranged alphabetically in the service to assist the user in locating particular subject areas quickly and efficiently.

In each chapter precedents of forms are given, setting out dealings in land that have been approved by the Registrar-General as being in a form acceptable for registration under the Real Property Act 1886. These are accompanied by detailed notes of legal and practical significance to assist in the correct completion of the forms.
Subscription to this product also includes the Land Titles (Australia) Reports series. The selection of judgments for this specialist report series is made by Jessup author Don Mackintosh along with the authors of land titles services in NSW and Queensland. The headnotes specifically written to complement the commentary volumes and are an invaluable resource.
Mr Don Mackintosh has taken sole authorship of this product. Mr Mackintosh is a Barrister and Solicitor of the Supreme Court of South Australia and the High Court of Australia. He is also a former Deputy Registrar-General and Deputy Registrar-General of Deeds of the Lands Titles Registration Office, where Jessup is the practice handbook in use. Mr Mackintosh is currently employed by the Crown Solicitor for South Australia, who is the solicitor to the Registrar-General.
Table of Contents
Volume 1
User's Guide
Tables (Table of Contents, Table of Forms, Table of Cases, Table of Statutes, Table of Abbreviations)
Index
Recommended Reading
New Developments
Applications, Appointment of New Trustees
Bankruptcy, Bringing Land Under Real Property Act
Caveats, Charges on Land, Community Titles
Compulsory Acquisition, Compulsory Conversion
Compulsory Production, Correction of Certificate of Title
Declarations, Discharges of Mortgages and Encumbrances
Easements, Encumbrances, Exchange of Reserves
Execution and Attestation, Farmers Relief Legislation
Fees, General Practice, General Registry office
Heritage Agreements, Instruments, Land Division
Land Management Agreements, Land Ownership and Tenure System, Land Titles Office Routine and Practice
Leases: Extensions, Surrenders and Determinations, Liens
Lodgement, Mining Act 1971, Mortgages and Extensions
Volume 2
Orders of Court, Parties to Dealings
Powers of Attorney, Professional Charges
Requisitions, Responsibility of Solicitors and Conveyancers
Retirement Villages, Roads
Statutes Amendment Act, Strata Titles
Substituted Certificates and Lost Instruments, Transfers
Transmission Applications, Warrants of Sale
Volume 3
Real Property Act 1886
Real Property Regulations 2009
Related Legislation
Land Titles (Australia) Reports
*
Price is for an annual subscription and includes all updates issued during this period.