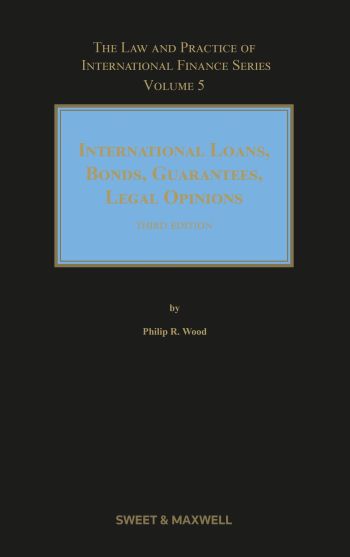 International Loans, Bonds, Guarantees, Legal Opinions 3rd
Book

$485.60* $607.00 RRP Save: $121.40 (20%)

Date: 31/07/2019

Code: 9780414044692

Sweet & Maxwell, UNITED KINGDOM

International Loans, Bonds, Guarantees, Legal Opinions 3rd

Sale Price:

$485.60

Saving: $121.40
Description
The Law and Practice of International Finance series is your definitive guide to international finance. It considers the full range of topics across nine volumes, setting out the law and practice of trading assets on the international markets. This essential work, by one of the leading finance specialists of a generation, provides a simple, unified and distilled account of the whole topic.
This book covers the essential principles of security interests and title finance from a practical perspective, providing the reader with an in-depth explanation of the core concepts underlying the law and practice. It sits beside volume 4 of the series, which provides a comparative overview of over 300 jurisdictions.
Table of Contents
Part 1: General
Security Interests and World Financial Law
Understanding English and American Security Interests
Rationale and Meaning of Security Interests
Classification of Main Sectors of Secured Finance
Classification of Assets
Classification of jurisdictions of the World
English common law jurisdictions
General review of the Napoleonic group
Roman-Germanic jurisdictions group
Other Jurisdictions
Part 2: Legal Topics
13

Parties: Debtors, Creditors and Trustees

14

Formalities, Costs and Taxes

15

Scope Of Security Interests and Universal Charges

16

Creation of Security Interests

17

Derivative assets, accessories and proceeds

18

Inalienable Assets; Negative Pledges

19

Publication (Perfection) of Security Interests: Principles

20

Perfection Under UCC Article 9

21

Perfection In English-Based Jurisdictions

23

Transfers of Secured Debt

24

Priorities: Policies Classification

25

Priority over Unsecured Creditors: the Ladder

26

Summary of Priority Rules: Owners, Buyers, Other Secured Creditors

27

Priorities: Asset Title Registers

28

Filing Registers Indexed by Debtor

29

Priorities: Particular Contests

30

Subordinated Secured Debt

31

Avoidance of Security Interests as a Preference

32

Financial Assistance to Buy Own Shares

33

Enforcement of Security Interests

34

Enforcement on Insolvency
Part 3: Practice and Documents
35 Security Packages

37

Security Interests over Goods

39

Contracts, Debts and Charge-backs

40

Security Interests over Investments

41

Security Interests over Insurances

42

Security Interests over Intellectual ...