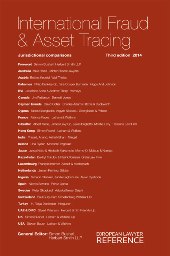 International Fraud and Asset Tracing 3rd edition eBook
eBook - ProView

Date: 31/10/2016

Code: 9780414038363

Sweet & Maxwell, UNITED KINGDOM

International Fraud and Asset Tracing 3rd edition eBook
Description
The new 3rd of International Fraud and Asset Tracing – Jurisdictional Comparisons is the essential reference guide for international corporations and their legal advisors. Covering 20 major jurisdictions worldwide it offers a clear overview of laws and procedures relating to fraud in each one, and is structured to allow easy comparisons between jurisdictions.
• Covers the law in 20 key jurisdictions
• Includes contributions from leading local practitioners who are experts in the field
• Uses a reader-friendly Q&A format that enables quick and easy cross jurisdictional comparisons
• Offers a well organised starting point for reference
• Answers the key questions of multinational corporations and international investors
• Helps in-house lawyers decide whether or not there has been corrupt conduct by a foreign subsidiary, or whether an internal investigation should be launched
• Covers topics such as managing the internal investigation; disclosure from third parties; steps to preserve assets/documents; and civil proceedings
• Provides straightforward, practical commentary on each jurisdiction and the respective legal systems
*
eBooks and packages including an eBook may not be returned once the software key has been supplied. Your rights as a customer to access and use the ProView™ software and a ProView eBook are subject to acceptance of the ProView content licence agreement.
NB
An email with a registration key and instructions for accessing your eBook will be sent after checkout. For existing ProView users the eBook will appear in your library after checkout.

Forthcoming/pre-order eBooks will be available after the publication date.

The ProView app is not currently available on Kindle. See the latest system requirements