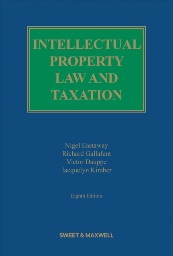 Intellectual Property Law and Taxation 8th Edition
Book

Date: 22/11/2013

Code: 9780414028852

Sweet & Maxwell, UNITED KINGDOM

Intellectual Property Law and Taxation 8th Edition
Description
If you need a clear understanding of the nature of your IP assets, the methods by which you can commercialise those assets and the taxation consequences - then Intellectual Property Law and Taxation can help.
The book, now in its 8th edition, covers both the intellectual property law and the relevant taxation law and the interface between the two - working as your guide through the convoluted maze of IP taxation.
Beginning by explaining the basics of IP law - what it is, what it involves and how it is protected for the benefit of the creators and their employers - it then moves on to cover the UK taxation system and how this applies to patents, designs, trademarks, copyright and design rights.
The new 8th edition includes:
the Finance Acts from 2009 through to 2013
the Corporation Tax Law rewrites in the Corporation Tax Acts 2009 and 2010
Taxation (International and Other Provisions) Act 2010
the updated work also refers to the relevant case law and the author's practical experience
Table of Contents
Part 1 Intellectual Property Law
Introduction
Patents
Designs
Trade Marks
Copyrights and Design Rights
Common Law Protection
Commercial Exploitation of Intellectual Property
Specific Applications
Part 2 Principles of Taxation
Individuals
Companies
Trusts
Value Added Tax
Valuation
Transfer Pricing
Controlled Foreign Companies
Research and Development
Part 3 Intellectual Property Taxation
Patents
Trade Marks and Service Marks
Copyright
Know-how and Show-how
Merchandising and Endorsement
Corporate Intangible Fixed Assets
The Patent Box
Part 4 Tax Planning
General Principles and Non Corporates
International Tax Planning
Stamp Duties
Package Deals
Part 5 Specific Taxation Applications
Entertainers and Sportsmen
Franchising
Computer Software, the Internet and the Cloud
Part 6 Case Studies
Appendices
Copyright Design & Patents Act 1988 - Extracts
Patents Act 1977 - Extracts
Treaty on the Functioning of the European Union - Extracts
UK Withholding Tax
FEU50 - A Guide to Paying Foreign Entertainers
Guidelines on the Special NIC Rules for Entertainers
Film and Television Industry Guidance Notes 2012 Edition
R&D Tax Relief - CIRD 81900