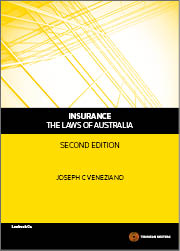 Insurance - The Laws of Australia 2e Book + Ebook
Book+eBook

Date: 20/10/2014

Code: 41711057

Thomson Reuters, AUSTRALIA

Insurance - The Laws of Australia 2e Book + Ebook
Description
Insurance - The Laws of Australia provides insurance practitioners, insurance companies and students with a principles-based, practical guide to insurance law in Australia.
This text provides comprehensive coverage and analysis of common law principles relating to, and the statutory regulation of, insurance contracts and the operation of an insurance business. The common law and statutory provisions are dealt with in the contexts of marine, life and general insurance.
This second edition covers recent significant amendments to this area of law under the Insurance Contracts Amendment Act 2013 (Cth), including the effect of those final amendments due to commence at the end of 2015.
Insurance - The Laws of Australia provides easy to read and insightful commentary on topics including:
the nature and classification of insurance contracts;
regulatory functions of the Australian Prudential Regulation Authority and the Australian Securities and Investments Commission;
insurable interests;
interests of third party beneficiaries;
insurance policies;
insurance claims;
indemnity and amounts recoverable;
subrogation; and
double insurance and contribution.
This material is also published as part of Title 22 "Insurance and Income Security" of The Laws of Australia legal encyclopaedia. As such it retains that work's easy-to-read style: each main paragraph opens with a bold proposition that encapsulates the relevant legal principle, while the text that follows sets out and analyses complexities, nuances and developments in the law. Extensive referencing makes The Laws of Australia the ideal starting point for research across any Australian jurisdiction.
Table of Contents
Introduction
Nature, Classification and Legislation
Regulatory Functions
Insurable Interests
Third Parties' Interests
Utmost Good Faith, Non-disclosure and Misrepresentation
Financial Services and Markets, Brokers and Agents
Formation of Contract
Policy
Construction of Policy and Standard Cover
Claim
Indemnity and Amount Recoverable
Subrogation
Double Insurance and Contribution
Marine Insurance
Life Insurance
*
eBooks and packages including an eBook may not be returned once the software key has been supplied. Your rights as a customer to access and use the ProView™ software and a ProView eBook are subject to acceptance of the ProView content licence agreement.
NB
An email with a registration key and instructions for accessing your eBook will be sent after checkout. For existing ProView users the eBook will appear in your library after checkout.

Forthcoming/pre-order eBooks will be available after the publication date.

The ProView app is not currently available on Kindle. See the latest system requirements